My paper crafting friend, Linda White, sends me a beautiful, handcrafted desk calendar annually. When I take photos and share the product details each year, it becomes one of my most popular blog posts.  I'm proud to share Linda's 2018 CD calendar today! Thank you, Linda, for allowing me to showcase your creative genius!
FREE PDF!  I know many of you love to make your own calendars or create a class using Linda's ideas.  Here's a FREE PDF Linda created that you can print with information for all 12 months!  Links are provided below each project for products available in my Stampin' Up! on-line store.  Some items have retired.
I love hearing from you!  Please leave me your questions or comments about the project for today.

WHERE TO FIND IT!  Linda purchases her pre-printed calendars and CD cases from eBay seller, Painter410 – you can find Painter410 by clicking here.
Linda has a limited supply of completed 2018 calendars to sell.  If you are interested, you may contact her through Facebook here, listed under the name Linda Staneart White.
The base color for each calendar measures 5 1/2″ x 4 3/4″.  The black mat is 5 1/4″ x 3 3/4″.
The calendar sits in a plastic CD case like an easel.
JANUARY
Base color is tempting turquoise
Stamp Set: Snow Place
Ink: Tuxedo Black Memento, Tempting Turquoise, Marker-Pumpkin Pie
Cardstock: Tempting Turquoise 2 1⁄4 by 3 Whisper White 2 7/8 by 2 1/8
Snow Friends Framelits Dies
Decorative Dots Embossing Folder
Modern Label Punch
Rhinestones Basic Jewels
Dimensionals to pop up Time to chill
FEBRUARY
Base color is real red
Stamp Set: Patterned Occasions
Ink: Smoky Slate
Cardstock: Basic Black 2 1⁄4 by 3 Real Red, Whisper White, and Red glimmer paper
Starburst Framelits
1 3⁄4 Circle Punch
Vine Street Embossing Folder
Fiskars small heart punch
Basic pearls
Mini dimensionals
MARCH
Base is Wild Wasabi
Stamp Set: None
Ink: None
Cardstock: Pumpkin Pie 2 3⁄4 by 3, Subtles Designer Paper 2 by 2 3⁄4, and Whisper White
Framelits Heart Collection, two smallest
Bird Punch for stem
Gold Buttons
Glue Dots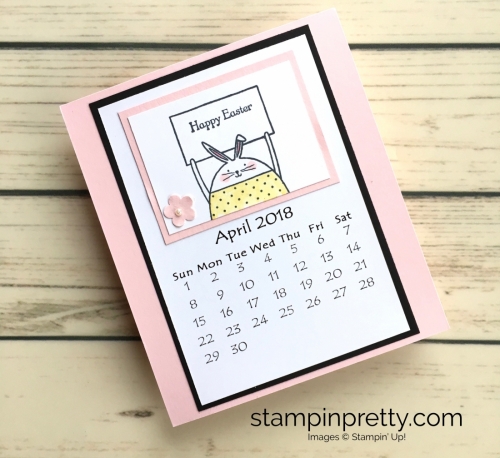 APRIL
Base is Pink Pirouette
Stamp Set: Cheerful Critters and Teeny Tiny Wishes
Ink: Tuxedo Black Memento and pink pirouette (I used a q-tip to apply to the rabbit's cheeks, and daffodil delight for rabbit's top applied with aqua painter).
Markers: Regal Rose for ears as the pink pirouette didn't show up well Cardstock: Pink Pirouette 2 1⁄4 by 3 and Whisper White 2 3⁄4 by 2.
Trio flower punch
Basic Pearls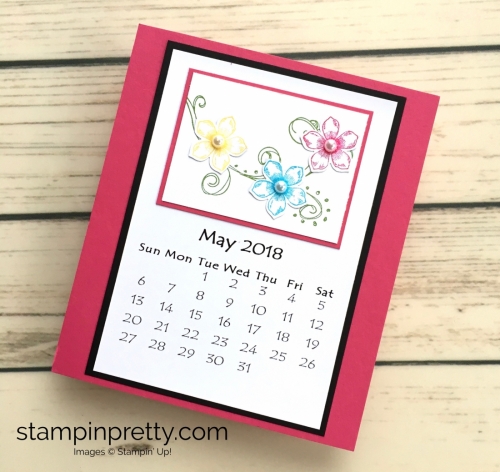 MAY
Base is Melon Mambo
Stamp Set: Doodle This and Petite Petals
Ink: Gumball Green, Daffodil Delight, Tempting Turquoise and Melon Mambo
Cardstock: Melon Mambo 2 7/8 by 2 1/8, Whisper White 2 3⁄4 by 2
Petite Petals Punch
Basic Pearls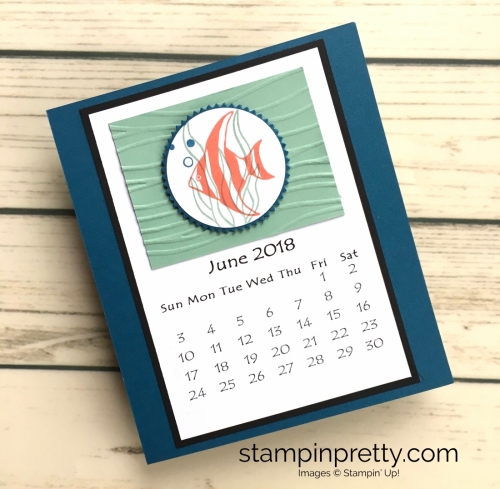 JUNE
Base is Dapper Denim
Stamp Set: Seaside Shore
Ink: Dapper Denim, Mint Macaroon, and Calypso Coral
Cardstock: Mint Macaroon 2 1⁄4 by 3, Dapper Denim, and Whisper White
Starburst Framelits
1 3⁄4 Circle Punch
Seaside Embossing Folder
Dimensionals (under Dapper Denim Starburst)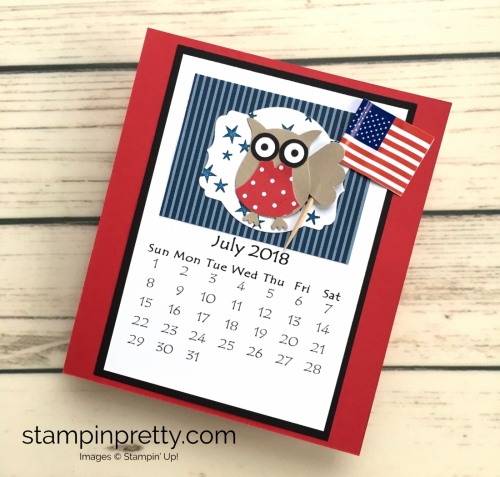 JULY
Base is Real Red
Stamp Set: July Fourth
Ink: Not Quite Navy
Cardstock: In Color Designer Paper 2012-2014 , midnight muse 2 1⁄4 by 3, Crumb Cake, Basic Black and Whisper White, I cant remember the name of the owls polka dot body.
Deco Labels Framelits
1 3⁄4 Scallop Circle Punch, Owl Punch
Cupcake flag toothpicks (I ordered mine on internet but Michaels has them also)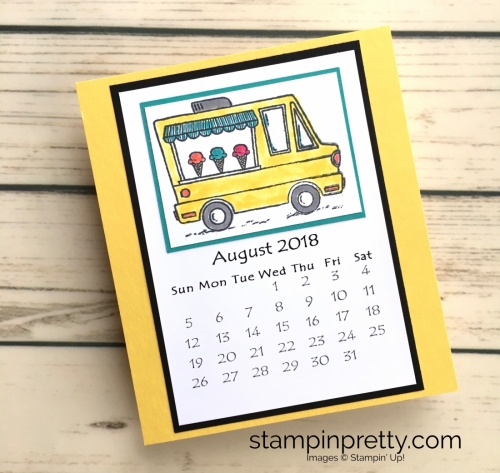 AUGUST
Based is Daffodil Delight
Stamp Set: Tasty Trucks
Ink: Tuxedo Black Memento, Daffodil Delight
Markers: Melon Mambo, Bermuda Bay, Calypso Coral, Crumb Cake, and Going Gray
Cardstock: Bermuda Bay 2 1⁄4 by 3, Whisper White 2 1/8 by 2 7/8
Aqua Painters for coloring the truck
SEPTEMBER
Base is Garden Green
Stamp Set: Tart and Tangy
Ink: Real Red
Marker: Garden Green
Cardstock: Frostwood Designer Paper 2 1⁄4 by 3, Real Red, and Whisper White
1 1⁄4 Square Punch and 1 3/8 Square Punch
Miscellaneous Red Buttons
Linen Thread
Glue Dots and Dimensionals ( these are to pop up apple square on the left)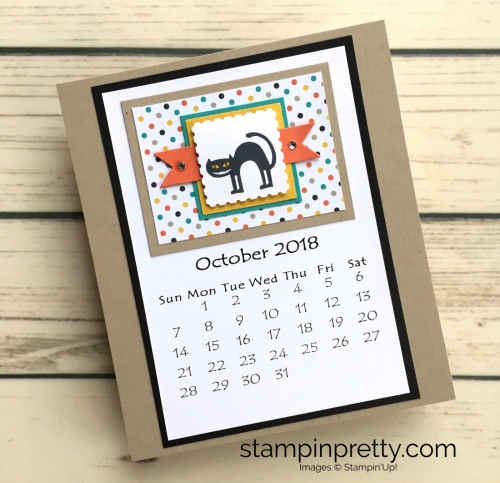 OCTOBER
Base is Crumb Cake
Stamp Set: Freaky Friends
Ink: Tuxedo Black Memento
Marker: Crushed Curry ( for cat's eyes)
Cardstock: Crumb Cake 2 1⁄4 by 3, Motley Monsters Designer Paper 2 x 2 3⁄4, Bermuda Bay 1 1⁄2 by 1 1⁄2, Crushed Curry, Tango Tangerine, and Whisper White
1 3/8 Square Punch and Postage Stamp Punch
Bitty Banner Framelits
Rhinestones basic jewels
Dimensional ( under whisper white postage stamp punch)
NOVEMBER
Base is Crushed Curry
Stamp Sets: Pick a Pumpkin and Labels to Love
Ink: Early Expresso, Crushed Curry, Pumpkin Pie, and Pear Pizzazz
Marker: Garden Green ( for stems)
Cardstock: Wood Textures Designer Paper 1 1⁄4 by 3, Whisper White, Garden Green, ( I used a sponge dauber with early expresso on the designer paper)
Patterned Pumpkins Thinlits Dies
1 3/8 Circle Punch
Dimensionals (popped us the Wood Textures DSP)
DECEMBER
Base is Real Red
Stamp Set: Tags til Christmas
Ink: Real Red
Cardstock: Silver Foil 2 1⁄4 by 3, Whisper White 2 by 2 3⁄4
Softly Falling Embossing Folder
Ornament Punch
Mini Jingle Bells
Elastic Silver Cord
Real Red 1⁄4 grosgrain ribbon
Dimensionals (popped up ornament)
PREVIOUS CALENDARS SHARED BY LINDA
THE OCCASIONS CATALOG & SALE-A-BRATION HAVE BEGUN!  Read more here about the new Stampin' Up! products for spring and how you can earn free products!
NEW PRODUCT VIDEOS!  Check out these Stampin' Up! video demonstrations for many new Occasions and Sale-A-Bration products here.  Very fun.  Very enabling!
MY FAVORITE THINGS from the 2018 Occasions Catalog (pretty stamps, cool tools and pretty embellishments) are here.
I love hearing from you!  Please leave me your questions or comments below.


If you enjoyed this post, please be sure to . . .