I need plenty of birthday cards and the Stampin' Up! Bright and Beautiful Suite has all the components to make some birthday magic happen.  I adore how the star pattern on the balloon coordinates with the Bright & Beautiful designer series paper (15% off thru June 30) tucked behind.
WHAT I LOVE!  It's the little things that often define a card.  A touch of baker's twine on the balloon and a little bling from the Tinsel Gems Four-Pack turn on the WOW! Factor!
MY STAMPIN' PRETTY PROJECT TUTORIAL
CUT YOUR CARD STOCK – DIMENSIONS:
Basic White Thick Card Stock:

Card Base –4 1/4 x 11, scored at 5 1/2

Basic White Card Stock

Stamped Layer – 2 3/4 x 4
Stamped Die-Cut – 2 1/2 x 3 (before die-cutting)

Berry Burst Card Stock:

Layers – 3 1/2 x 4 3/4, 3 x 4 1/4

Bright & Beautiful Designer Series Paper:

Layer – 3 1/4 x 4 1/2
Envelope Flap – 5 3/4 x 2 1/4
PROJECT TUTORIAL:
Begin by burnishing the fold of the Basic White Thick card base with a Bone Folder.
Layer and adhere the Bright & Beautiful Designer Series Paper layer to the larger Berry Burst layer with Multipurpose Liquid Glue and to the card with Stampin' Dimensionals.
Use Clear Blocks (C & D) to stamp the sentiments (Beautiful Balloons Stamp Set) in Berry Burst Classic Ink onto the Basic White layer as shown.
Adhere the stamped layer to the Berry Burst Layer with Multipurpose Liquid Glue and to the card with Stampin' Dimensionals.
Use a Clear Block D to stamp the balloon (Beautiful Balloons Stamp Set) in Berry Burst Classic Ink onto the Basic White layer.
Crop with a Stampin' Cut & Emboss Machine (Standard or Mini) and the coordinating Beautiful Balloons die.
Adhere to the card with Stampin' Dimensionals.
Tie a bow of white Baker's Twine Essentials around the bottom of the stamped balloon.
POP OF PERSONALITY! Embellish with Berry Burst Tinsel Gems Four-Pack as shown.
PERFECT POLISH! Use Multipurpose Liquid Glue to adhere the Designer Series Paper to the outside flap of a Basic White Medium Envelope. You can see my video demonstration with tips on adding designer paper to an envelope flap here.
PRODUCT SPOTLIGHT!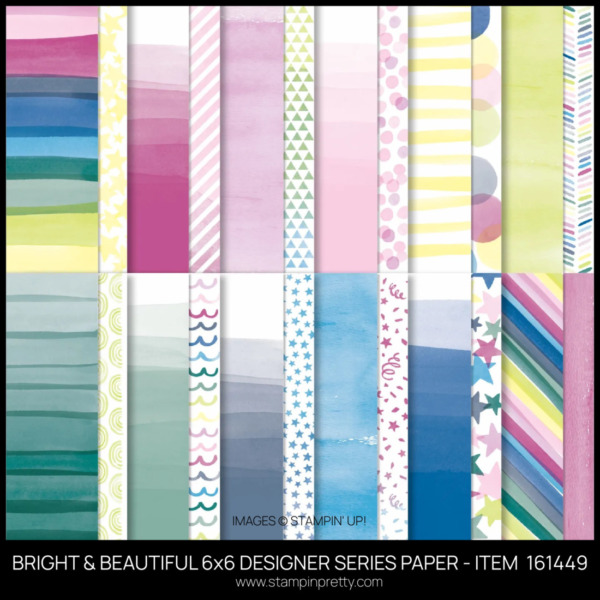 OH, SO PRETTY!
OH, SO PRETTY! The card above also uses the Bright & Beautiful Designer Series Paper and Tinsel Gems Four-Pack from the Stampin' Up! 2023-2024 Annual Catalog! You can see the original blog post and project tutorial for this card here.
WHAT'S NEW & MORE!
ENDS TODAY, JUNE 30! SAVE 15%! SELECT Designer Series Paper Packs are 15% off the regular retail price through June 30, 2023!  Now is a great time to stock up and save on some of Stampin' Up!'s most popular paper designs! There is no limit to how many packages of Designer Series Paper may be purchased during this promotion.
You can download the flyer that lists the select papers that are included in the 15% Off Sale by clicking here or use the button below.
ENDS TODAY, JUNE 30, 2023! STAMPIN' UP! STARTER KIT PROMOTION! FOR $99 (plus tax) YOU CHOOSE UP TO $155 in Stampin' Up! product of YOUR CHOICE (that's $56 in FREE product and $30 MORE than usual) & the products ship FREE (another 11% savings). Learn more about the benefits of purchasing the starter kit and joining Stampin' Up! thru me here.
IF YOU PURCHASE THE STARTER KIT & JOIN THROUGH ME . . . I WELCOME HOBBY STAMPERS to my pressure-free, exclusive and fun Stampin' Pretty Pals Community!  Ideas, prizes, fun & friendship!
HERE'S WHAT MEMBERS OF MY PALS COMMUNITY ARE SAYING ABOUT WHY THEY JOINED!
Cathy S.- "I joined so I could get a discount on my craft supplies. I've been a demonstrator for 11 years because I love paper crafting and get so much motivation, encouragement, support and inspiration from the Pals."
Veronica M. –"The discount is wonderful. But my love of stamping and sharing with others has truly blessed me with new friends!"
Debbie T. – "Signing up under Mary (along with becoming a part of the Pals community) was a game changer for me. In spite of my being just a hobby demo, I get so much more out of paper crafting from all of the sharing and inspiration, but also from the friendships."
Windy E. –"Joined in 2011. I love my customers/friends who come to class and the Pals community so I am still here!"
Michelle Q. – "I've stayed on for the friends and community."
Elisha S. – "I fell in love with Mary's style and decided to join for the discount. Soon after some church friends asked me to join them for card classes at HL. I soon realized I could do a better job (as a retired middle school teacher) for them right at home. They are all still with me 11 years later!"
Renee C. – "I joined because I have always loved to make homemade cards and loved the products and of course the discount was an added bonus. I have remained because I love the Pals! The inspiration and encouragement are priceless."
Debra A. – "Paper crafters are encouraging, supportive and eager to share their talents and expertise with others."
Bridget T. – "I was buying a lot, so getting the discount was a good idea! I have met new friends!"

My project supply list. Click products to shop on-line!