Welcome to the Families First Pals Blog Hop for April 2017.  We are thankful you stopped by to take a look at our 2017 Blog Hop monthly themes.  This month we are featuring projects that are all about our families. This is a great time of year to think about what to make for Mother's Day, Father's Day, or upcoming graduations. And, family vacations are just around the corner… how would you want to remember those special family moments? We hope to provide you with lots of ideas and that you enjoy our creations.
You may just be starting the Blog Hop or may have come from the previous link from the Line-up on the Pals Blog Hop listing shown below.  The full lineup will help you move along from blog to blog so you may see all the projects.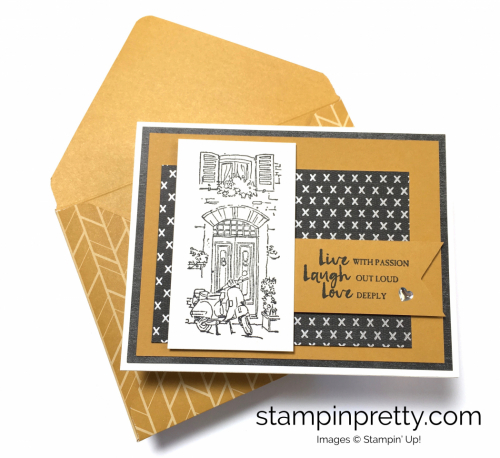 For today's family's first theme, I created a Father's Day card for my husband, Scott.  It honors our 28 years of marriage as well as celebrates what a wonderful father he is to our one and only daughter, Caroline (now 23 years old).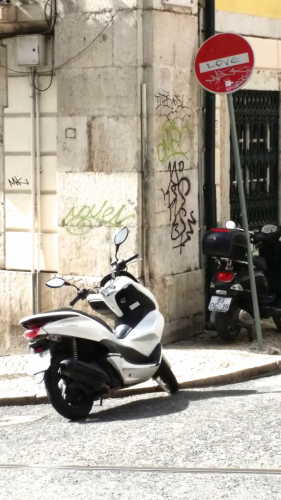 I snapped this photo of a scooter outside a charming restaurant Scott and I dined at in downtown Lisbon, Portugal, a couple years ago.
I thought it was the perfect way to remember our trip and "translate" the memories to a heartfelt card using the Stampin' Up! Mediterranean Moments stamp set (designed by my friend and fellow demonstrator, Susan Nygaard).
I love hearing from you!  Please leave me your questions or comments about the project for today.

STAMPIN' PRETTY TIPS:
Introducing . . . Thick Very Vanilla Card Stock (8.5″ x 11″).  It's a great weight for the 4 1/4″ x 5 1/2″ card base and will be available NEW in the Stampin' Up! 2017-2018 Annual Catalog beginning June 1.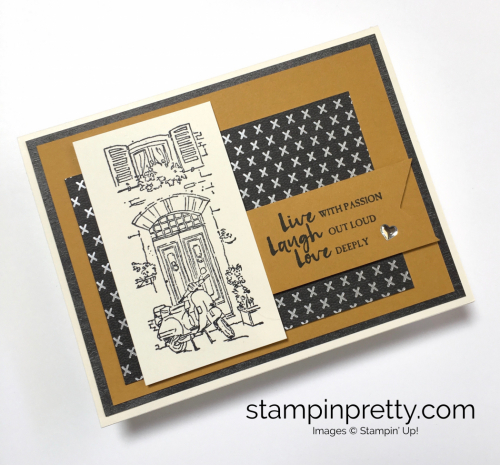 Retiring & 30% Off!  I used the retiring 2015-2017 Envelope Paper (Circles & Dots) for the coordinating Delightful Dijon envelope.  It's the perfect weight to use with the Envelope Punch Board.
Retiring & 30% Off!  The silver embossed "x" pattern on Basic Black (4 1/8″ x 3″) and Basic Black pattern layered on the card base are from retiring Urban Underground Specialty Designer Series Paper.
The Stampin' Up! Banner Triple Punch makes cropping the flagged end a snap.
The perfect touch is a silver heart (Metallics Enamel Shapes) to reinforce the "love" in the sentiment (Beautiful You)!
Hover and Pin it!  The photo below shows key products for today's love card that you can save or pin to Pinterest.  If you are viewing this post by email, you'll need to click the title of the post to access my blog and pin.  See ALL my labeled product photos in one spot on my How to Make Simple Cards board on Pinterest.

What's retiring and on sale (up to 50% off & while supplies last)? Clicking the blocks below!
Thanks for visiting. To continue with the hop, please refer to the Blog Hop Line-up below. We hope to see you on next month's Pals Blog Hop! 
PALS BLOG HOP LINE-UP:
Mary Fish at Stampin' Pretty  YOU ARE HERE!
I love hearing from you!  Please leave me your questions or comments about the project for today.


If you enjoyed this post, please be sure to . . . 

My project supply list. Click products to shop on-line!