Welcome to the Pals Blog Hop for July.  This month we are excited to show off the new 2015 – 2017 Stampin' Up! In Colors, namely, Cucumber Crush, Delightful Dijon, Mint Macaron, Tip Top Taupe and Watermelon Wonder. The In Color products include coordinating card stock, designer series paper, ribbon and other embellishments.  We hope you find great inspiration from the projects.
You may just be starting the blog hop or may have come from Maggie Mata at Maggie Made Cards, number 19 on the Pals Hop.  If you get off track at any time, the full lineup below will help you move along from blog to blog so you see all the projects.
My card for today's hop represents two of the Stampin' Up! 2015-2017 In Colors, Watermelon Wonder and Tip Taupe Taupe.
I used Garden in Bloom stamp set to create my own background and dotted each flower with one of the Stampin' Up! Rhinestone Basic Jewels.  The sparkle is even prettier in person.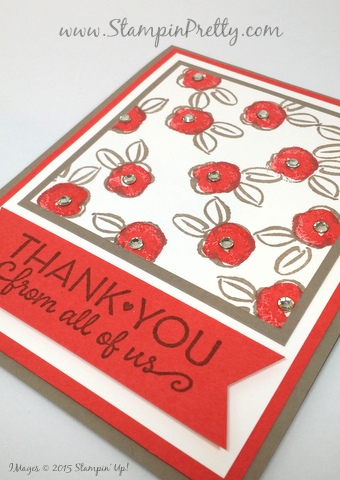 The thank you sentiment is from One Big Meaning stamp set.  I love the variety of fonts and ways to say "thank you"–a great basic!
The next stop is Peggy Noe at Pretty Paper Cards number 21 on the Pals Blog Hop!  Thanks for visiting; I hope to see you on next month's Pals Hop!
I love hearing from you!  Please leave me your questions or comments below.


If you enjoyed this post, please be sure to . . . 
Blog Hop Line-up:
My Stampin' Up! Supplies List!