Thank you for joining us for the April Pals Blog Hop! To
celebrate Earth Day, the April blog hop features new cards and projects
that capture the essence of Earth Day through colors (like the Crumb Cake I used) and images and/or
use of recycled or reused elements. We hope you are ready for some fun and
creative ideas.
You should have just left stop number 17 on the Pals Hop – Debbie Crowley at Expressively Deb . . .   If so, you are in the right spot.
I'm stop number 18.  If you get off track, the full blog lineup below will help you move along
from blog to blog so you see all of the amazing creations.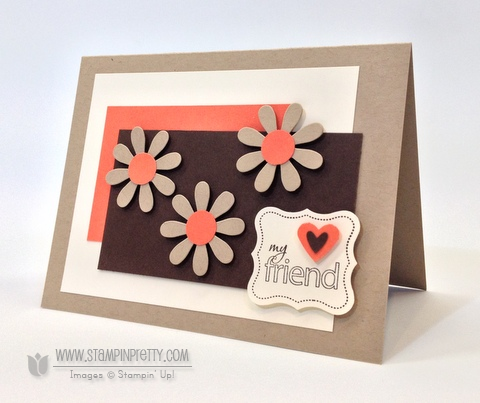 Earth Day makes me think about flowers and influenced this handmade card with a retro edge.  It's simple and fun and will cheer up a dear friend who is having surgery.

The curly label punch makes quick work out of the sentiment from Stampin' Up! Perfect Punches stamp set.
EARTH FRIENDLY TIP:  Don't toss your home d?cor and fashion
catalogs.  They are loaded with inspiration as well as "punchable" patterns.  I think you can see where the colors of my card as well as the flowers (pillow) came from.  I used my Stampin' Up! Color Coach (120148) to coordinate
and ultimately opted for Calypso Coral between the two oranges shown.
The next stop is Dawn Tidd's Tiddbits from Dawn Blog, stop number 19 on
the Pals Blog Hop! Thanks for visiting ? and I hope to see you next month!
A SPECIAL THANK YOU to Nicole Watt who designed our Earth Day badge and buttons using My Digital Studio.
Stamp Set:  Perfect Punches (Wood-Mount 117022, Clear Mount (120516)
Paper:  Crumb Cake (120953), Calypso Coral (122925), Early Espresso (119686), Very Vanilla (101650)
Ink:  Early Espresso (126974)
Cool Tools:  Small Heart Punch (117193), Owl Builder Punch (smaller heart, 118074), Curly Label Punch (119851), 1/2″ Circle Punch (119869), Blossom Party Originals Die (115971), Big Shot-Die-Cutting Machine (113439)
The Perfect Touch:  Stampin' Dimensionals (104430)
 Final Blog Hop Line Up List:
Carmen Sublasky at The Creative Stamptuary