A wreath made with the Stampin' Up! Leaf Punch steals the show on today's autumn birthday card.  However, tweak the colors and it becomes a baby card, traditional Christmas (blend a variety of greens), mixed metals (copper, silver, gold) or simply go ALL solid!  
NEW!  The Leaf Punch is on the list of My Favorite Things from the Holiday Catalog here.
This home decor catalog arrived in the mail Saturday and was my inspiration for using Fresh Fig, Pumpkin Pie, Cherry Cobbler and Crushed Curry.  How did I do?
I love hearing from you. If you have a question or thoughts to share about today's post, please, COMMENT HERE.
STAMPIN' PRETTY TIPS:
I punched four of each color and layered one color at a time.  Cherry Cobbler was first to define the top, bottom and sides of the wreath.

I used Snail adhesive on the stems to that I still had a little "wiggle room" to move the leaves as I layered.
Yum!  The Fresh Fig 1/8″ Sheer Ribbon is a delight to work with and doesn't overpower the bold wreath design.
A pop of Pumpkin Pie (Brights Enamel Shapes) ties in the sentiment (Happiest of Days).
COMING UP!  Tomorrow I'll share a 1 Minute to WOW! tutorial with quick tips for creating the wreath as well as adding texture to an envelope flap.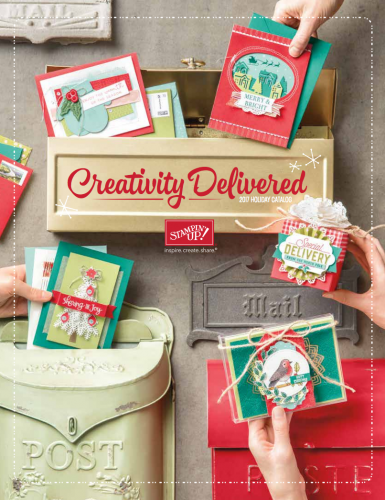 Click here to view the holiday catalog on-line!
THE STAMPIN' UP! HOLIDAY CATALOG HAS BEGUN!  Check out the free resources and tips below on how to shop and save! 
My project supply list. Click products to shop on-line!