Happy Thanksgiving!  Today is such a special day to cherish those people we love and be grateful for what we have (even beyond "our stuff").  I'm so fortunate to have been introduced to my first hobby and craft EVER (stamping) a little over five years ago.  I never imagined it would develop into new friends, fun and an artistic career with Stampin' Up!  I treasure that I can share my passion daily with you and appreciate your continued kindness, support and business!

I have marvelous projects to showcase today for my Thanksgiving Day Parade of Stampin' Up! Ideas–ALL created by friends and fellow demonstrators that I'm blessed to know!  First in the "parade" is the framed art at the top and close-up immediately above, created by Janice Warhank, a member of my Stampin' Pretty Pals Community.  This stunning mix of sentiment and art is jawdropping in person and proudly displayed in my home.  Janice shares more of her wall art and talent on her blog.

This simply charming card was given to me by Patti MacLeith (a member of my Stampin' Pretty Pals).  She used Stampin' Up! Fabulous Phrases (one of my favorites) to deliver her sentiment.  Isn't the little row of flowers, perfect!  Check out Patti's Blog.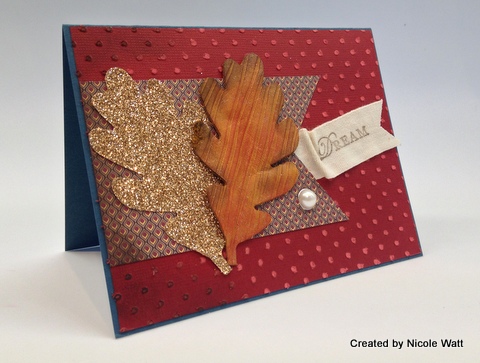 Glamorous and eclectic at the same time.   This uber cool card was fashioned by Nicole Watt (a member of my Stampin' Pretty Pals).  The die cut leaf on the right is leather . . . sumptuous texture!  See more of this style on  Nicole's Blog.

Minimalist defines the clean and bold style of Kris Kilcoyne, a member of my Stampin' Pretty Pals Community, my niece, dear friend and right arm (she's my administrative assistant).  I don't know how I would get through the crazy, busy weeks without her help and nutty sense of humor.  You'll love her Kween Bee Blog.

This beautiful charger plate was given to me by fellow Stampin' Up! Demonstrator Sue Brown as a door prize (I won!) at our last Southwest Stampers Meeting.  Sue added the fall leaves cut with the Autumn Accents Bigz Die and embossed with the Woodgrain Embossing Folder.

A single layer card can be the essence of sophistication.  The bling of the rhinestone is all the embellishing needed.  I treasure this card given to me by Jill Leigh of the Stampin' Up! Corporate Team.

Amiee Cordoza, another member of my Stampin' Pretty Pals, sent me this thank you card.  She made clever use of the circle punch in creating a polka dot pattern and "gift."  I propped open the card so you can see a snippet of how she continued the Linen Thread inside.

This classy card is from Janice Warhank (she also created the framed wall art at the top of this page).  It accompanied my "give thanks" gift and delivers such a special message.

Recognize the print?  Pam Morris, a member of my Stampin' Pretty Pals Community, used Stampin' Up! International Bazaar Designer Series Paper for her colorful jewelry design.  And, yes, that's a Naturals Designer Button on the coordinating bracelet.  Anyone else thinking stocking stuffer?
Lisa Pretto-Ibinger is my upline, mentor and friend.  She rewarded my hard work with something we all appreciate, a handmade card.  Clean and simple.  Learn more about Lisa's Ink Big Academy, a direct sales training program.  

THREE 4 GOOD REASONS TO PURCHASE THE STARTER KIT NOW!
1.  IT'S A FABULOUS DEAL!  For just $99 (plus local sales tax), you'll receive:
Your choice of up to $125 in current Stampin' Up! product
(that's up to $26 in FREE product).
A FREE Stampin' Up! Firm Foam Ink Pad Collection in your choice of Regals, Brights or Subtles ($49.95 value, 10 ink pads).  
The kit and FREE ink pad bonus ship FREE (another 10% savings). 
2.  NO WORRIES:   With
the purchase of the kit, you'll be able to enjoy demonstrator discounts and
benefits through March 31, 2013 without ANY obligation to purchase
anything further, host parties or obtain outside sales.  Perfect
timing for the new Spring Catalog (pre-order starts Dec. 1) and
Sale-A-Bration (Jan. 22 – Mar. 22).  If you have $300 in personal
demonstrator purchases and/or sales from the time you purchase the kit through March
31, 2013, you'll renew your demonstrator benefits for three additional months (thru June 30).  If you don't, there's no penalty to drop and you can join again for $99!
3.  FEED YOUR ARTISTIC PASSION:  
Take advantage of exclusive paper crafting videos and resources and be
among the first to see new catalogs and pre-order new products! 
Purchase the starter kit through me and you'll become a member of my Stampin' Pretty Pals, a pressure-free, virtual community of friendly and talented stampers.  Hobby stampers as well as business demonstrators are always welcome in the Pals!
From Stampin' Pretty Pal and Business Demonstrator Cindy Hall: 
I am so grateful for your leadership skills and ability to brainstorm ideas that help me grow my business ?My Way."
4.  FOR A LIMITED TIME–ADD EXTRAVAGANZA SALE ITEMS TO YOUR KIT!   Get even more bang for your buck.  Purchase the Starter Kit by November 28 (during the On-Line Extravaganza Sale) and you can add sale items to your Starter Kit!  Take a peek at the list of sale items with discounts to 50% off.
GET TO KNOW ME A LITTLE BETTER BEFORE YOU DECIDE 🙂  Review my resum?. 
If you have any questions, please email me ([email protected]) for a prompt response.
READY NOW?  CLICK HERE TO PURCHASE THE STAMPIN' UP! STARTER KIT.