When I saw the wide, open spaces of this week's Mojo Monday sketch (MOJO170), I knew I could play with a mix of paper patterns. The bold vanilla blossoms of Stampin' Up! Woodland Walk Designer Series Paper caught my eye and the deal was sealed when I saw how cool the new Vanilla Rosettes (available Jan. 4, Occasions Mini Catalog) coordinated with them. Very chic!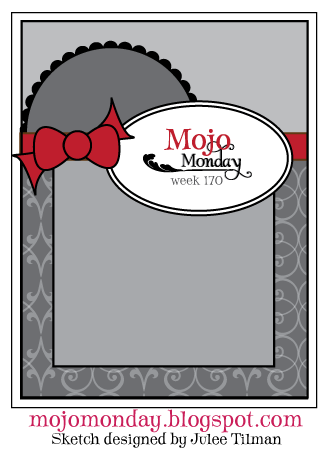 STAMPIN' PRETTY TIPS:
NEW PRODUCT ALERT!

The "Queen for a Day" sentiment offers you a sneak peek at a new Occasions Mini Catalog stamp set called "You're a Gem." The set offers a variety of clever and classy sentiments. See more Occasions Mini Sneak Peeks.
Mini Glue Dots keep the Vanilla Rosettes securely in place. I used several on the largest rosette (right).
The Crumb Cake Medium Envelope looks polished with a touch of coordinating Woodland Walk Designer Series Paper. Click to watch my Envelope Envy Video Tutorial and see how easy it is!

LAST MINUTE STAMPIN' UP! E-CARD GIFT CERTIFICATES! Need a quick gift (or want to suggest the perfect gift for yourself)? I can whip up a Stampin' Up! email gift certificate for delivery in less than 24 hours!
To get started, please email me ALL the following:
Your name and email address.
Recipient's name and email address.
A short message (optional) and how you want it signed (for example, "Love, Lola" ).
Date for delivery. Payment must be received by December 23 for delivery on Christmas Eve or Day.
Gift amount. Note: Minimum $25.
Gift certificate must be redeemed through me and recipient must live in the U.S.
After receiving the above information, I'll send you an invoice for secure on-line payment by PayPal or major credit card.

NEW!! FILLED WITH LOVE ON-LINE VIDEO CLASS! My latest on-line video class (3 full length tutorials plus a bonus) is proving to be a hot ticket! Learn to create all the projects above step-by-step using products from the Stampin' Up! Filled with Love Promotion.
Click here for further details and payment link. Early Bird Price $7.95!

TO ORDER STAMPIN' UP! PRODUCTS ON-LINE 24/7, CLICK HERE!
Stamp Set: You're A Gem (WM 122268, CM 122270, Occasions Mini Catalog*)
Paper: Woodland Walk Designer Series Paper (117389), Crumb Cake (120953), Very Vanilla (101650), Chocolate Chip (102128), Garden Green (102584)
Ink: Garden Green (102272)
Cool Tools: 1 3/4" x 7/8" Oval Punch Large (119855), 2" x1 3/8" Oval Extra Large (119859), 1 3/4" Circle Punch Extra Large (119850), 2 1/2" Circle Punch Extra Large (120906)
The Perfect Touch: Vanilla Rosettes (118774, Occasions Mini Catalog*), Chantilly 1/2" Crochet Trim (118480), Stampin' Dimensionals (104430), Mini Glue Dots (103683)

Crumb Cake Medium Envelope (107297), Woodland Walk Designer Series Paper (117389)
*Items from the Occasions Mini Catalog will be available Jan. 4.