After using my Scallop Edge Punch to create rickrack in a recent post, I received a number of requests from readers for a rickrack tutorial . . . so here goes–a rickrack photo extravaganza :) 
I used Pacific Point card stock and cut it 1" x 5.5 (the width of the card, but you can cut this to any length you need).  1" is an important number since it's wide enough to accommodate the "flip" in the tutorial below and still use the punch guide.  You may be able to go a little less if you want to produce a skinnier rickrack.
Step 1:  Gather your supplies.

Step 2:  Line up your card stock with the guide on the Scallop Edge Punch.  My fingers are on the lever you push to cut.  TIP:  You can punch either left to right or right to left, depending on what's comfortable for you.  Continue moving the same direction once you start.

Step 3:  After my first punch, I moved the card stock right, making sure to carefully line up my punched scallops with the silver scallops on the punch.  Punch again.

Step 4:  Continue to move to the right and re-align the card stock scallops with the Scallop Edge Punch scallops (silver).  TIP:  Once the length of the card stock is longer on the right, I shift my fingers to hold the card stock down on the right side, as in this photo.

Step 5:  Here's what one completed side looks like.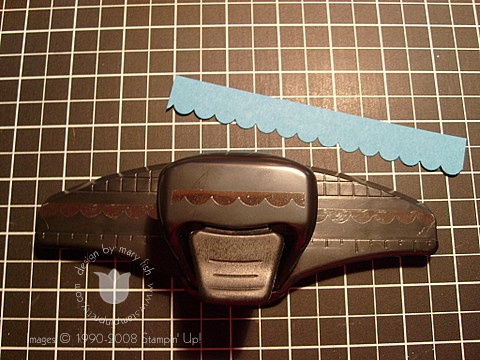 Step 6:  Flip your card stock to begin the scallop edge on the opposite side.   As you can see, the 1" width allows you enough width to use the guide when you flip.  TIP:  Having a guide gives you a nice little groove to steady the card stock and crank out straight punches.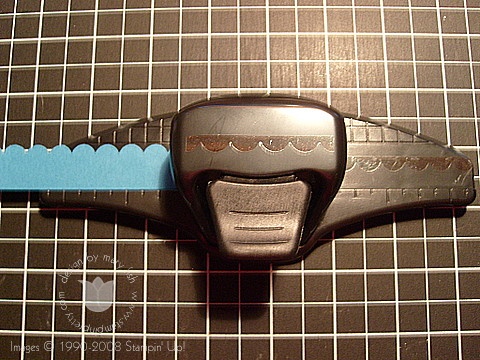 Step 7:  KEY POINT–In order to create a rickrack effect, you need to punch the second side off center.  The bottom arrow points to the guide mark on the punch which I line up with the center of the scallop (arrow above).  This assures your second side of scallops will be off center from the first.  Punch again.

Step 8:  Slide card stock to the right, carefully keeping the scallops lined up as you did for the first side.  Punch.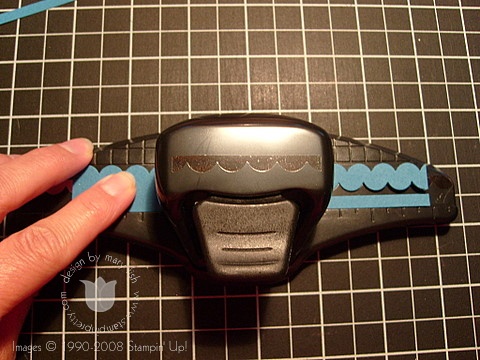 Step 9:  I moved my fingers to the right side as the card stock moves right to keep things firmly in place.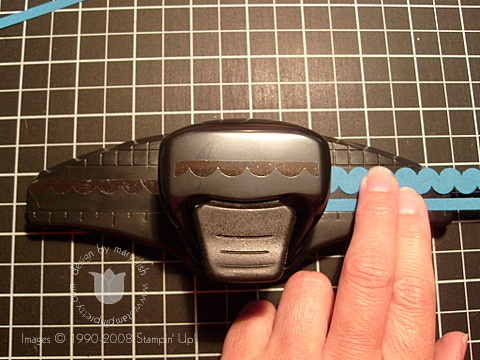 Step 10:  Completed rickrack.


Here's a quick run down on the rest of the card.  I stamped the adorable sailboat stamp from Nursery Necessities 3 times in the new Fall/Winter In Colors (Pacific Point, Baja Breeze, Tangerine Tango).  I snipped out parts of each and mounted them using Stampin' Dimensionals to Whisper white card stock that was cut and embossed using square Nestabilities die cuts. BRIGHT IDEA: Make waves!  Use a scrap left over from the rickrack punching to set your boat a-sea. 
The main image is layered on a scalloped square of Tangerine Tango (again, using the square Nestabilities set).   It's next mounted with Stampin' Dimensionals on a horizontal panel of Baja Breeze, stamped with the alphabet stars (Nursery Necessities) in Baja Breeze Ink.  Rickrack (see tutorial above) dolls up the top and bottom of the panel.  The Whisper White Textured card base is 4.25 x 5.5.
Finally, the sentiment (Baja Breeze ink on Baja Breeze card stock) is cropped using a Word Window Punch and a couple orange microbrads jazz up the sides.  Stampin' Dimensionals provide one last jolt of 3-D.  Note:  My layout is an oldie, Splitcoast Sketch Challenge 73.
Hugs and Pretties . . . . M
COMING UP:  Aug. 11 is going to be a huge day for stamping fans!  The on-line catalog and ordering from the new Fall/Winter Idea Book and Catalog will kick in at approximately 1:00 p.m. CST.    Stampin' Up! will be offering it's best promotions ever.  All will be available here, on my Stampin' Pretty Blog.  I'll be posting more details and sneak peeks over the weekend. 
Plus, my blog is climbing to 100,000 visits and it will be time to celebrate with a very special blog candy giveaway.  How about a little clue?  Think Ink. 
Stamp Set:  Nursery Necessities
Paper:  Whisper White Textured, Pacific Point, Baja Breeze, Tangerine Tango
Ink:  Pacific Point, Baja Breeze, Tangerine Tango
Cool Tools:  Scallop Edge Punch, Word Window Punch, Cuttlebug, Nestabilities Squares
The Perfect Touch:  Stampin' Dimensionals, Orange Micro Brads