A fellow demonstrator, Kadie Labadie, visited my home recently and shared this wonderful, double Ghirardelli Treat Holder (below), as well as instructions, with me.  You can see Kadie's Blog here:  Kards by Kadie.
I couldn't wait to try it and made 30 of them for my Thanksgiving guests.  Beth McCullough of the my Stampin' Pretty Pals helped me create them when she stopped by my studio this past week..  Thank you, Beth!  You can visit her blog here:  Stamping Mom.
Kadie learned how to create the holders from this video by demonstrator, Jean Fitch, as well as fellow Stampin' Pretty Pal, Peggy Noe's, tutorial here
Stampin' Pretty Step-by-Step Instructions:
Start with a 6×6 piece of Designer Series Paper. 
Create a fold from point to point and score with a Bone Folder. 
Use the Stampin' Trimmer to score at 1/2″ on the right and on the left of the fold. 
Line the original folded edge at the top of the Stampin' Trimmer and score at 2 3/4″. Flip and score again at 2 3/4″.
Fold in the sides. Use a Bone Folder to reinforce all score lines. 
Form original fold (first step above) as the "peak" (middle) of the base. 
No adhesive needed. 
TIP:  These double Ghirardelli treat holders can also be used for tea bags!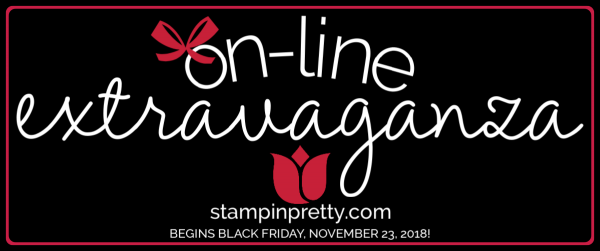 Get ready for the Stampin' Up! On-Line Extravaganza!  It will offer discounts and deals that you won't want to miss.  The On-Line Extravaganza starts on Black Friday, Nov. 23, and continues thru Nov. 28.  You can see more details here. 
I love hearing from you!  Please leave me your questions or comments about the project for today.


If you enjoyed this post, please be sure to . . . 

My project supply list. Click products to shop on-line!