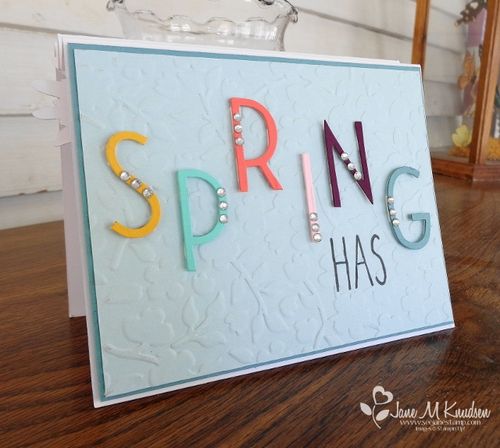 Today's guest stamper and a member of my Stampin' Pretty Pals Virtual Community is Jane Knudsen.  She makes a bold statement with this exquisite spring card.  Love the "bling on spring!"
However, it only gets more amazing because "spring" has "sprung" when you open the card!
Are you staring at this pop-up card in awe, too?  Head over to Jane's See Jane Stamp blog to learn how she created and engineered this card PLUS discover even more of her paper crafting talent!
INDULGE IN THE ART OF STAMPING!  Take your passion for stamping and Stampin' Up! products to a new level when you purchase the Sale-A-Bration $99 Starter Kit and join Stampin' Up thru me HERE (plus earn access to my private Stampin' Pretty Pals Virtual Community and additional exclusive resources).  Choose up to $125 in products (that's $26 in free products since you are only paying $99) and the starter kit ships free for another 10% savings.  I WELCOME HOBBY STAMPERS TO THE PALS!
BONUS PRODUCTS:  During Sale-A-Bration, you'll also get to add to the $99 Starter Kit your choice of two FREE Sale-A-Bration gifts OR one FREE Occasions Project kit.  Learn more about additional discounts and benefits HERE.  Ends March 31.  See all Sale-A-Bration gift choices.
Thank you for all you do for the Pals!  Lynn K.