Stephanie Andrews, Judy Thoma, Kadie Labadie, ME
There's something so special about getting together with friends and paper crafting.  Wouldn't you agree?  I recently got together with members of my Stampin' Pretty Pals as well as dear friend, Kadie Labadie (also a Stampin' Up! demonstrator and my "side line" in downline lingo). We hung out at my home (and in My Stampin' Studio) to assemble the Stampin' Up! March Paper Pumpkin Kit.
Judy Thoma, Stephanie Andrews and Patti Carbonell
Most of these finished samples were cooperative efforts.  For example, Kadie Labadie added her signature doodling and I added the flowers above.
Judy Thoma and Stephanie Andrews were on the stitching committee (takes a little time but the result is worth it).  TIP:  Divide the six strand thread into three strands so that it will fit through the holes.
I skipped the sewing on the card I created.  However, I customized it with the yummy Calypso Coral ribbon from the Best Year Ever Accessory Pack (a Sale-A-Bration exclusive).
LaDonna Gabrielson, Kadie Labadie and Lisa Ma working diligently in the kitchen.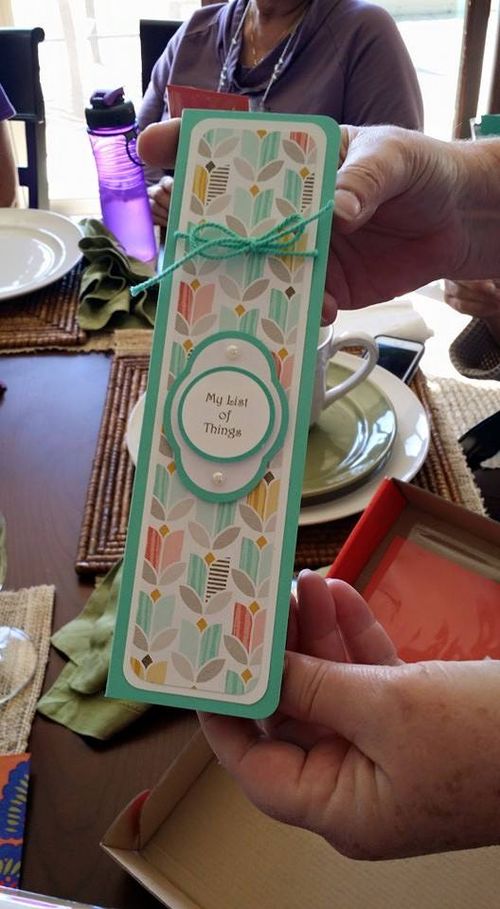 Patti Carbonell created this fabulous make and take note book.
Here's a selfie of the previous weekend in Denver when I got together with members of my Stampin' Pretty Pals Wendy Klein and Carol McFarland.  I love my peeps!
GET YOUR MONTHLY ARTISTIC FIX!  Order a 3 month pre-paid subscription to Paper Pumpkin kits and save $5.  PLUS you'll qualify for a FREE Sale-A-Bration gift!  Offer ends March 31.
ALREADY A PAPER PUMPKIN SUBSCRIBER and need a refill or want to purchase a past kit?  Discover what's available HERE!