Husband, Scott, my favorite "racks and rails" guy!
There was encouraging progress on my Ultimate Stampin' Zone (craft room) today.  The cabinet guy arrived, tweaked a few things and will be replacing the "suspension" for my upper storage cabinets.  They should raise up and hold so that I can "have the shop open" when I'm working and "closed" when I'm not.  It's a neatnik thing on my part to keep things tucked away and organized.  
My husband, Scott (the "racks and rails guy" in the above photo), and I put up the Ikea Bygel rails for my punches last night (hence, the "twilight" in my title).  I made sure to have plenty of room for future additions.  This is one area I tend to underestimate so I got plenty.  The rails are still the best way I personally have found to have punches "ready for duty."  I have used them since the renovation of my original stamping zone. 
Note:  Ikea no longer ships the rails . . . you need to purchase them at one of their stores.  It's worth the trip.  The longest rails (39 1/4") are only $2.99 each (actually, I think they were on sale for $1.99 the day I was there–possibly still are).  The smaller ones (21 3/4") were $1.99 each.

James, my electrician, "rocks out" my undercabinet lighting.  Good lighting is essential.
FOLLOW THE PLAY BY PLAY ON FACEBOOK as I post updates and photos regularly throughout the day of my Ultimate Stampin' Zone's progresss.  Click HERE to join in (and hit the "like" button if you haven't visited before).   
Today's game plan highlight:   I discovered a new system for DVD storage (clear mount stamps) that I'll get my "racks and rails" guy to install and am totally in love with (actually both the storage and the "racks and rails guy"–LOL).  Can't wait to show it off.

My orange tree is "expecting!" My juicer awaits!
While anxiously pacing during the completion of the electrical work and cabinets, I snapped a few shots of what's happening outdoors (my yard) in Tucson, Arizona. 
Mexican Bird of Paradise, the glory of summer flower color in AZ.

Bougainvillia.  These sweeties pack a powerful pink punch!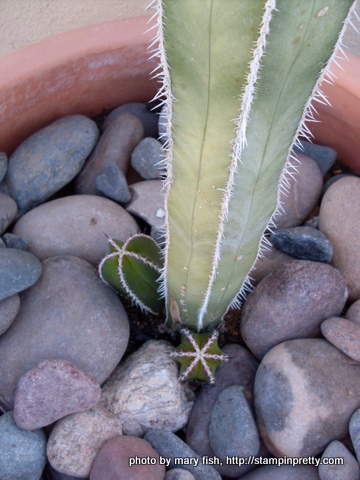 Love must be in the air.  Even the cactus are having babies!  I was so excited to see these little dudes in my potted cactus.
LAST CHANCE ACCESSORIES (UPDATED LIST), STAMPS AND DECOR ELEMENTS won't be available much longer.  Select accessories discounted up to 40%!  GET THE STAMPIN' UP! LAST CHANCE DETAILS!
 CLICK TO ORDER STAMPIN' UP! PRODUCTS ON-LINE 24/7