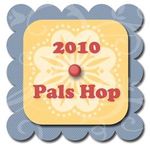 Woo hoo! It's time for a new Pals Blog Hop.  My Stampin' Pretty Pals have been busy creating and are offering loads of ideas and inspiration for this month's 3-D theme.  Simply click on the blog hop links and start hopping–but don't miss out on the details of my "bat globe" shaker card and sneak peeks below!
1.   Gina Shaw     cardsbyginashaw
2.   Joanna Munster    inspiredbystampin
3.    Pam Giudici     pamshobby
4.   YOU ARE HERE :)  Mary Fish     stampinpretty

5.   Diana Caho     b4ustamp
6.    Martha Stewart     seasonsofstamping
7.    Kylie Nicolosi     kyliescraftycorner
8.    Kris Kilcoyne     kweenbee
9.    Mike Funke     stampin-style
10.  Dawn Gross     dawnsthisnthat
11.  Tracy Cowee     tlccrafting
12.  Barbara Furlong     theloveofstamping
Bat phones, batmobile . . . so why  not a "bat globe?"  Day 5 of my Week of Sneak Peeks from the Holiday Mini Catalog showcases a new "kid" on the single stamp block and it's called Sweet Snowglobe.  With a little "bat-tastic" modification, it goes from a snowy setting (very charming) to batty.  The stamp is designed to work with the Sweet Treat Cups (round) and will be available for customer purchase when the Holiday Mini Catalog begins on September 1.
STAMPIN' PRETTY TIPS:
NEW PRODUCT ALERT! 

Sweet Snowglobe (available 9/1) provides an ideal environment for a shaker card . . . from yummies to these 1/4" circles, have a little fun and shake it up. 
Say what you want!  I used the Sweet Shoppe Alphabet Upper and Lower sets to deliver my message.  With the clear-mount version, I was able to easily add the letters for "bats" on one block–stamping only once.  The font is modern and chic.

NEW PRODUCT ALERT!

  Very pretty, bordering on "saucy," the Holiday Mini's 1/2" Lace Trim in "Raven" will doll up your projects from Halloween to Valentine's Day.

NEW PRODUCT ALERT! 

Dash up your bats with Black Flourish Designer Jewels (available 9/1).  They come in strips for individual use and a simply smashing flourish that will add "wow" to any project.

NEW PRODUCT ALERT!

  I'm loving that luscious texture on new Spider Web Textured Impressions Embossing Folder (available 9/1).  My bats seem pretty happy landing on it, too.
JOIN MY STAMPIN' PRETTY PALS!  Whether a hobby stamper or ready for a Stampin' Up! career, if you love to stamp, you'll fit right in.  CLICK HERE to learn more.
SEARCHING FOR RETIRED STAMPS?  My Stampin' Pretty Pals have plenty of fabulous stamps for sale.  Check out the Pals Retired Stamp Sale and see if that "hard to find" set is waiting for you!

TO ORDER STAMPIN' UP! PRODUCTS ON-LINE 24/7, CLICK HERE!
CARD (4 1/4" X 5 1/2"):
Stamp Sets:  Sweet Snowglobe (120868, available 9/1), Sweet Shoppe Alphabet Upper (Wood Mount 118722, Clear Mount 120582), Sweet Shoppe Alphabet Lower (Wood Mount 120272, Clear Mount 120648), Wicked Cool (Wood Mount 118738, Clear Mount 120600)
Paper:  Wicked Fun Specialty Designer Series Paper (117400), Rich Razzleberry Textured Card Stock (Assorted Brights, 121077), Old Olive (100702), Cajun Craze (119684), Whisper White (100730)
Ink:  Old Olive (102277), Rich Razzleberry (115658), Basic Black (101179)
Cool Tools:  Bitty Bat Punch Large (119279), 1 3/4" Circle Punch (119850), 3/4" Circle Medium Punch (119873), 1 3/4" x 7/8" Oval Punch Large (119855), 1/4" Hole Punch (retired SU), Color Spritzer Tool (107066)
The Perfect Touch: Sweet Treat Cups (116802), Stampin' Dimensionals (104430), 1/2" Raven Lace Trim (120988, available 9/1)


FANCY FAVOR TREAT BOX:
Paper:  Wicked Fun Specialty Designer Series Paper (117400), Rich Razzleberry (115316), Basic Black (121045)
Cool Tools:  Big Shot Die Cut Machine (113439), Bigz XL Fancy Favor Box (115965), Bitty Bat Punch Large (119279), Spider Web Textured Impressions Embossing Folder (120889, available 9/1)
The Perfect Touch:  Large Flat Cello Bag (102210), Rich Razzleberry 5/8" Satin Ribbon (119752), Black Flourish Designer Jewels (120987, available 9/1), Stampin' Dimensionals (104430)