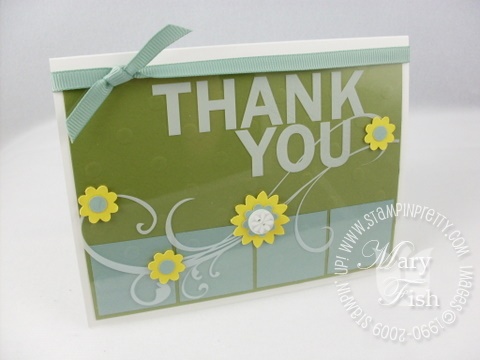 A little more Occasions Mini magic to share today using Stampin' Up!'s Clearly Thanks Printed Window Sheets.  Here's a link to all my Stampin' Up! Occasions Mini projects plus this card using one of the other window sheet patterns I shared previously.
The 4.25 x 5.5 Whisper White card base is scored at the top.  I adhered 1 1/4" Squares in Sage Shadow over Old Olive and cardstock.  Using Stampin' Up!'s Backgrounds I Texturz Plates and a Big Shot, I added a polka dot texture.
The final details were quick and easy.  I used a Boho Blossoms Punch to layer flowers on top of the window sheet.  Very cool effect.  A single Whisper White Latte Designer Button becomes a focal point. for the larger flower.  A snippet of Sage Shadow 1/4" Grosgrain accents the top.
Got Mini?  The new Stampin' Up! Occasions Mini is available for download on my right side bar OR email me if you would like me to mail you a FREE copy.  Click to see more Occasions Mini Samples.
Love Free Goodies?  Don't Miss Stampin' Up!'s latest Get Connected Promotion!
To Order Stampin' Up! Products On-Line 24/7, CLICK HERE!
Paper:  Old Olive (100702), Sage Shadow (101563), Whisper White (100730), Yo Yo Yellow (102824)

Cool Tools:  Boho Blossoms Punch (110711), 1/4" Circle Punch (retired),
1 1/4" Square Punch (104400), Big Shot, Die-Cut Machine (113439)
Stampin' Up!  Backgrounds I Texturz Plates (114512)

The Perfect Touch:  Clearly Thanks Printed Window Sheets (115122,
Occasions Mini), Sage Shadow 1/4" Grosgrain Ribbon (111369), Whisper
White Latte Designer Button (114333)