The Stampin' Up! Timeless Arrangements Bundle is your fast track to classic and chic thank you cards.  The "multi-stemmed" die design makes floral assembly a snap!
WHAT I LOVE ! These luscious colors (Poppy Parade, Night of Navy, Wild Wheat) are incredibly rich when combined.  Change out the Wild Wheat for Basic White (and a Basic White background layer below) and you have a patriotic (red, white, blue) color scheme.  Switch out the Night of Navy and Wild Wheat and add Old Olive and Mossy Meadow and you have a traditional Christmas "bouquet!"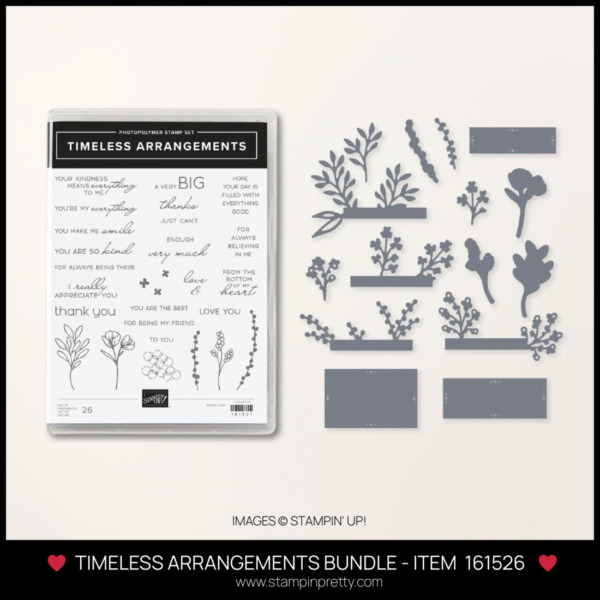 MY FAVORITE THINGS! The Timeless Arrangements Bundle is part of My Favorite Things from the Stampin' Up! 2023-2024 Annual Catalog! You can see all of My Favorite Things here.
MY STAMPIN' PRETTY PROJECT TUTORIAL
CUT YOUR CARD STOCK – DIMENSIONS:
Night of Navy Card Stock:

Card Base –4 1/4 x 11, scored at 5 1/2
Die-cut (Qty 2) – 4 x 4 1/2 (before die-cutting)

Very Vanilla Card Stock

Layer – 4 x 5 1/4
Sentiment Die-Cut – 2 1/2 x 1 3/4 (before die-cutting)

Poppy Parade Card Stock:

Die-cut (Qty 2) – 4 x 4 1/2 (before die-cutting)

Wild Wheat Card Stock:

Die-cut (Qty 2) – 4 x 4 1/2 (before die-cutting)
PROJECT TUTORIAL:
Begin by burnishing the fold of the Night of Navy card base with a Bone Folder.
Adhere the Very Vanilla layer to the card base with Multipurpose Liquid Glue.
Use a Stampin' Cut & Emboss Machine, along with the Timeless Arrangements Dies to crop the Poppy Parade, Night of Navy, and Wild Wheat card stock.
Adhere the die-cuts together and to the card with Multipurpose Liquid Glue.
Use a Clear Block C to stamp the sentiment (Timeless Arrangements Stamp Set) in Night of Navy Classic Ink onto the Very Vanilla layer.
Crop the stamped sentiment with a Stampin' Cut & Emboss Machine (Standard or Mini) and the Timeless Arrangements 2 1/8 x 1 3/4 die.
Adhere to the card with Stampin' Dimensionals.
POP OF PERSONALITY! Embellish with Night of Navy Ombre Matte Decorative Dots.
PRODUCT SPOTLIGHT!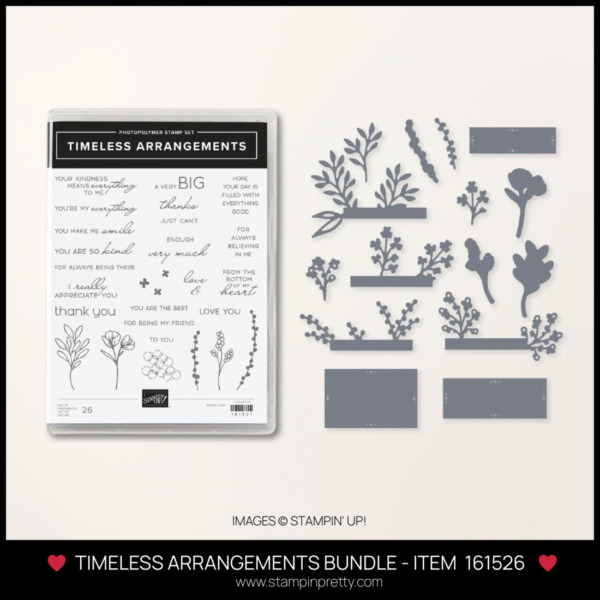 OH, SO PRETTY!
OH, SO PRETTY! The card above also uses the Timeless Arrangements Bundle from the Stampin' Up! 2023-2024 Annual Catalog! You can see the original blog post and project tutorial for this card here.
WHAT'S NEW & MORE!
ENDS TODAY, JUNE 30, 2023! STAMPIN' UP! STARTER KIT PROMOTION! FOR $99 (plus tax) YOU CHOOSE UP TO $155 in Stampin' Up! product of YOUR CHOICE (that's $56 in FREE product and $30 MORE than usual) & the products ship FREE (another 11% savings). Learn more about the benefits of purchasing the starter kit and joining Stampin' Up! thru me here.
IF YOU PURCHASE THE STARTER KIT & JOIN THROUGH ME . . . I WELCOME HOBBY STAMPERS to my pressure-free, exclusive and fun Stampin' Pretty Pals Community!  Ideas, prizes, fun & friendship!
HERE'S WHAT MEMBERS OF MY PALS COMMUNITY ARE SAYING ABOUT WHY THEY JOINED!
Cathy S.- "I joined so I could get a discount on my craft supplies. I've been a demonstrator for 11 years because I love paper crafting and get so much motivation, encouragement, support and inspiration from the Pals."
Veronica M. –"The discount is wonderful. But my love of stamping and sharing with others has truly blessed me with new friends!"
Debbie T. – "Signing up under Mary (along with becoming a part of the Pals community) was a game changer for me. In spite of my being just a hobby demo, I get so much more out of paper crafting from all of the sharing and inspiration, but also from the friendships."
Windy E. –"Joined in 2011. I love my customers/friends who come to class and the Pals community so I am still here!"
Michelle Q. – "I've stayed on for the friends and community."
Elisha S. – "I fell in love with Mary's style and decided to join for the discount. Soon after some church friends asked me to join them for card classes at HL. I soon realized I could do a better job (as a retired middle school teacher) for them right at home. They are all still with me 11 years later!"
Renee C. – "I joined because I have always loved to make homemade cards and loved the products and of course the discount was an added bonus. I have remained because I love the Pals! The inspiration and encouragement are priceless."
Debra A. – "Paper crafters are encouraging, supportive and eager to share their talents and expertise with others."
Bridget T. – "I was buying a lot, so getting the discount was a good idea! I have met new friends!"

My project supply list. Click products to shop on-line!