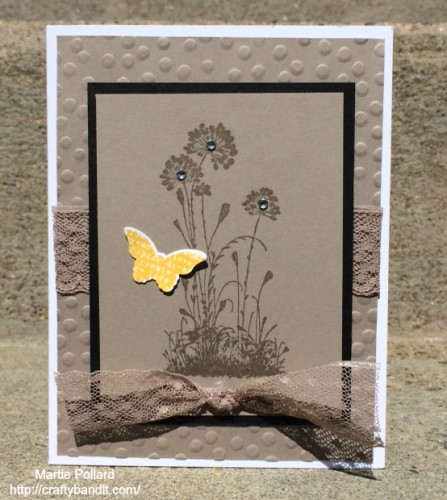 Are you nutty about neutrals?  Martie Pollard, today's guest stamper and a member of my Stampin' Pretty Pals Virtual Community, did a marvelous job creating a soft background using Stampin' Up! Serene Silhouettes stamp set and Tip Top Taupe (one of the 2015-2017 In Colors).  The perfect touch is the pop of yellow in the butterfly and coordinating lace trim.
GET THE DETAILS!  Head over to Martie's blog, The Crafty Bandit — for more of her paper-crafting projects and the scoop on today's Serene Silhouettes card!
 JOIN MY FUN STAMPIN' COMMUNITY & GET A GREAT DEAL!
I WELCOME HOBBY STAMPERS!  Take your passion for stamping and Stampin' Up! products to a new level when you purchase the $99 Starter Kit and join Stampin' Up! thru me HERE.  Choose up to $125 in products (that's $26 in free products) and the starter kit ships free for another 10% savings.
BONUS! 
JOIN BY JUNE 30 & ADD YOUR CHOICE OF
2 FREE STAMP SETS TO THE KIT!
When you purchase your kit and join through me, you'll become a member and earn access to my private Stampin' Pretty Pals Virtual Community.  I offer exclusive resources, private chat groups and paper crafting inspiration daily in a fun, friendly, pressure-free environment.
Thank you so much for the awesome inspiration and support you give to your members!  Pal Heather K.