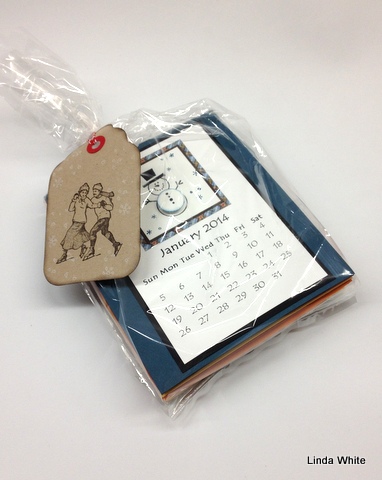 Sometimes a handmade papercrafting project arrives in the mail that drops me in my tracks!  Linda White surprised me with this remarkable calender she created.  It sits on my desk and I'll have the fun of anticipating a new look each month–each being an incredible work of art. 
I love that each month gets propped up in a CD holder for easy viewing on my desk.  Simple idea!
I'm in awe of the clever details, like the snowman's belly, the fluffy Easter bunny tails and the googlie eyes on the Halloween spider.  Which month is your favorite?  Share it with a comment below.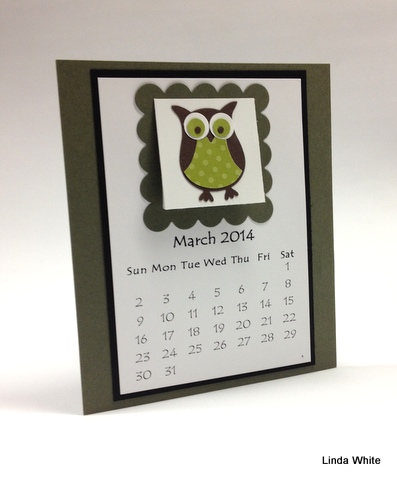 GOT QUESTIONS?  If you have specific questions about Linda's project, please leave a comment and I'll ask her to leave an answer for you.
Dates: January 11-February 10, 2014
The Details:  NEW Paper Pumpkin subscribers who sign up at My Paper Pumpkin between January 11 and February 10, 2014, will receive a FREE set of 2012-2014 In Color Stampin' Write Markers -a $14.95  value.  I got a sneak peek of the February and March kits and ABSOLUTELY love them.  Better quality and better value!
This special offer is only valid for new subscribers.
Customers must sign up at My Paper Pumpkin
The markers will be sent with the subscriber's Welcome Kit.  No coupon code is required. Anyone who signs up for a Paper Pumpkin membership during the promotion dates will get a set of 2012-2014 In Color Stampin' Write Markers.