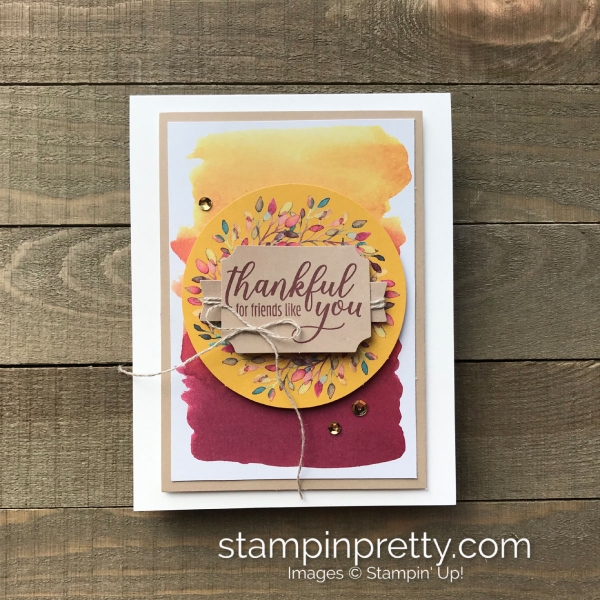 Enjoy these three alternate card ideas for the Stampin' Up! "The Gift of Fall" Paper Pumpkin Kit (August 2019). Two of my Paper Pumpkin alternates incorporate the Gift of Fall Add-On Bundle. The Gift of Fall Add-On Bundle is still available in my online store by clicking on the image below.
It's no secret that Paper Pumpkin subscribers love card making. When Stampin' Up! offers treat or gift packaging, subscribers generally like to make a few card-alternates with the kit. That's why THIS month (August 2019) Stampin' Up! decided to bring the best of both worlds with the Gift of Fall Add-On Bundle. This coordinating product will allow you to turn your Gift of Fall gift packaging into cards in an easy, peasy and inexpensive way.
• Includes 24 note card bases of 2 different designs with coordinating envelopes.
• Product dimensions: Cards: 5″ x 3-1/2″ (12.7 x 8.9 cm), Envelopes: 5-1/8″ x 3-5/8″ (13 x 9.2 cm)
• Not included with an August Paper Pumpkin subscription
• The Gift of Fall Add-On Bundle is not needed to complete August kit projects
* Must be a current Paper Pumpkin subscriber to order this item.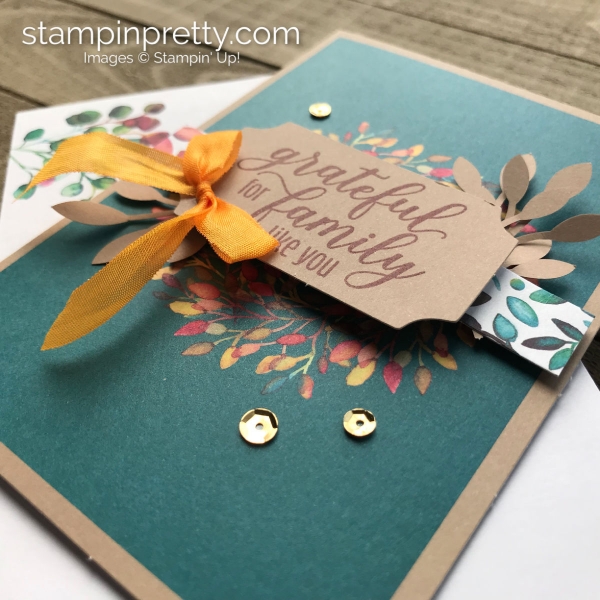 Watch the Stampin' Up! Paper Pumpkin video below for more "how to" ideas on using the August 2019 Paper Pumpkin The Gift of Fall kit and stamp set.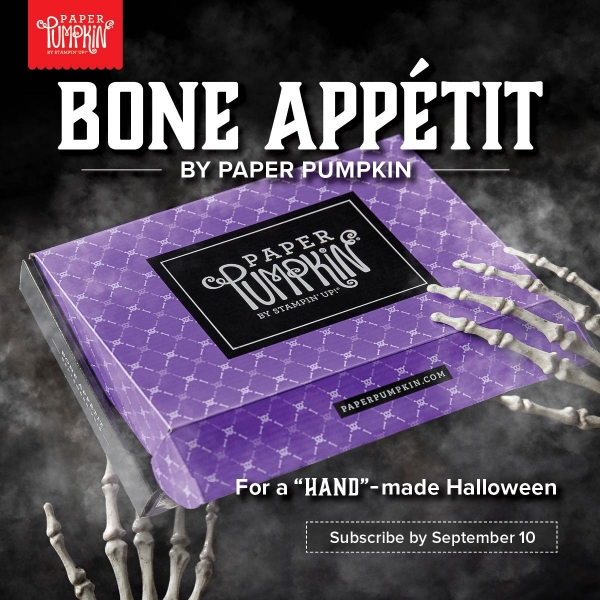 September Kit Information (Subscribe or order by Sept. 10)
Halloween is nearly here, which means that Paper Pumpkin has been busy, busy, busy. Do you need "a hand" with your frightful festivities? September's kit, Bone Appétit, was created with you in mind!
This kit includes 20 food-safe treat boxes, a unique and exclusive Halloween stamp set, and a spooky, special-edition box. September's kit also gives new meaning to the word "handmade." (Cue the scary laughter!) Coordinating colors: Basic Black, Gorgeous Grape, Pumpkin Pie, and Whisper White
Subscribe the September Paper Pumpkin kit at paperpumpkin.com from August 11–September 10.
BECOME A MEMBER OF MY PAPER PUMPKIN CLUB WHEN YOU SUBSCRIBE TO PAPER PUMPKIN THRU ME! Receive the alternate Paper Pumpkin ideas shared above PLUS FREE PDF Tutorials (members only) for each! PDF tutorials are exclusively for my Paper Pumpkin Club members and contain step-by-step instructions for each alternate project. You'll receive the tutorials by email every month you are an active Paper Pumpkin subscriber through me.
LEARN MORE on how to purchase Paper Pumpkin kits (month-to-month or prepaid 1, 3, 6 or 12-month subscriptions) and join My Paper Pumpkin Club here.
I love hearing from you!  Please leave me your questions or comments below.


If you enjoyed this post, please be sure to . . .