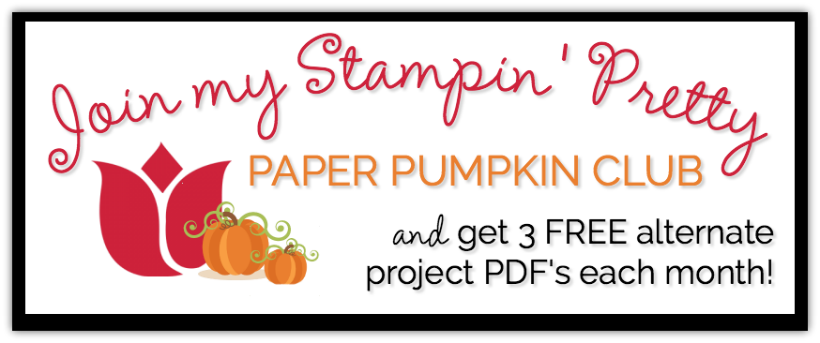 Enjoy these not-so-spooky alternate ideas for the Stampin' Up! Frights & Delights Paper Pumpkin Kit (September).  Watch this Stampin' Up! video here for more "how to" ideas. 
JOIN MY PAPER PUMPKIN CLUB WHEN YOU SUBSCRIBE THRU ME!  Learn how you can be first to receive these alternate Paper Pumpkin ideas PLUS PDF Tutorials with step-by-step instructions each month FREE when you are an active Paper Pumpkin subscriber through me.  Learn more about My Paper Pumpkin Club.
AND THERE'S MORE . . . FRIGHTS & DELIGHTS KITS AVAILABLE!  Click here to purchase the full Frights & Delights Paper Pumpkin Kits and/or refills while supplies last.

BE READY OCT. 8 AT 12:01 A.M. MT!  Paper Pumpkin has a LIMITED NUMBER of October kits to offer at this special introductory rate of $5 for first time subscribers!  The flash sale will end October 10 OR when the kits sell out (whichever is first).  My bet is they will sell out quickly at this $5 price so BE READY to place your order on Oct. 8!
IMPORTANT:  Enter the code FLASH1018 before the sale ends to receive this special introductory price.
HOW IT WORKS
The flash promotion price for new month-to-month subscribers is $5 (USD).
The flash promotion starts October 8, 2018 at 12:01 a.m. MT.
To subscribe to Paper Pumpkin at the flash sale price through me, click here. 
Enter the code FLASH1018 before the sale ends to receive this special introductory price.
The sale will continue until supplies of the kit run out or the October subscription period ends on October 10, whichever comes first.
If the supply runs out before October 10, sale will end and Stampin' Up! will automatically begin accepting new subscribers for November's kit (which features a one-of-a-kind, exclusive holiday kit in a specially-designed box).
Discount applied to one kit per month for the first month of a new subscription. After the first month, the price for the subscription will return to $19.95.
I love hearing from you!  Please leave me your questions or comments below.


If you enjoyed this post, please be sure to . . .