I'm so fortunate to be known as the "Fearless Leader" to the Stampin' Pretty Pals, my virtual stamping community and an enthusiastic, talented and friendly group of hobby and business demonstrators from across the U.S.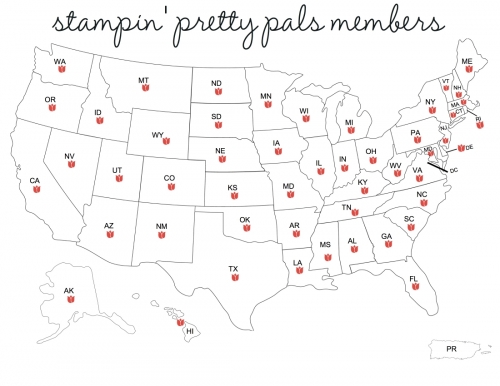 Please email me to find out if there is a Stampin' Pretty Pal near you.
I offer a resourceful, positive environment where you can participate in our virtual chats and fun at any level you want–even "quietly lurk" if you prefer 🙂  Here's my resumé.  As part of the Stampin' Up! family, you'll enjoy demonstrator discounts and benefits, too.
I WELCOME HOBBY STAMPERS!
Becoming one of the Pals is as simple as purchasing the Stampin' Up! Starter Kit through me. It's the Ultimate Stampin' Up! Product Bundle!  The kit ships FREE (10% savings) and you can customize with $125 worth of your favorite products, including specially priced bundled products.
IT'S THE ULTIMATE STAMPIN' UP! BUNDLE!  Learn more about the $99 Starter Kit . . . 
Learn about the $99 starter kit offer here.
As a member of the Pals, you'll receive the latest Stampin' Up! news, technique, product and promotion information and fun activities each Thursday in the Pals Weekly Bulletin.
Pals Blog Hop . . . jump in on the fun of theme based challenges and our progressive, monthly blog hop.  Here's an example of a Pals Hop.
The Buzz!  Chat with the Pals (and me) or ask advice about about new products and ideas in our private stamping discussion groups on Facebook.  There's something for everyone!
Find a Pal Map.  Love the social aspect of stamping or want to head to a Stampin' Up! event together?  Our exclusive "Find a Pal Map" will show you who lives near so you can connect.  We have members in almost every state.
Receive performance based recognition and incentives (woo hoo! Stampin' Up! shopping sprees) I personally offer members of my group.
Attend my convenient (virtual) monthly webinar meetings, catalog parties (prizes galore) and more!  There's something for both hobby and business demonstrators in each presentation and ALL members are welcome.
Participate in one of my fun Bandit Gallery giveaways, where the Pals upload photos of projects to our private Facebook Gallery.  I give away oodles of prizes.
Mary is a born leader, professional and caring.  She makes you feel like part of the family.  
My experience with Mary is fantastic!  
She is always available to help and offers lots of information and ideas.
HAVE A QUESTION?  If you have any questions, simply E-MAIL ME for a prompt answer.
READY TO GET STARTED?
I love hearing from you!  Please leave me your questions or comments below.


If you enjoyed this post, please be sure to . . .