May 1 – 31!  Want to get your hands on new products from the Stampin' Up! 2018-2019 Annual Catalog before it begins on June 1?  Click here for a brochure of the product bundles you can order during the Share What You Love Early Release promotion! 
This Stampin' Up! video provides a close up look at the Share What You Love bundles and FREE product offer!
DON'T MISS THE FREE PRODUCTS!
Exclusive purchase dates for bundled pricing and FREE products:  May 1 – 31
Bundles may be included as part of a $99 Starter Kit (to $125).  Free items will be included, too.
Bundles are exclusive to the early release and will no longer be available after May 31, 2018.
Individual items from the Share What You Love suite will be available when the 2018–2019 annual catalog is released on June 1, 2018.
If items in the bundles become unavailable during the sales period, available items will ship, and backordered items will ship separately when available. 
JUST GETTING STARTED BUNDLE (ONE FREE ITEM).  ORDER BY CLICKING BELOW: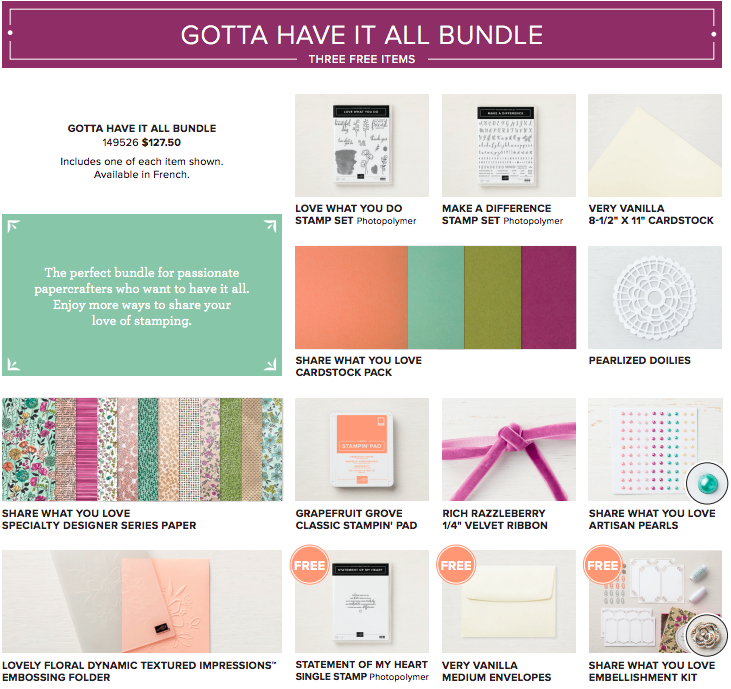 GOTTA HAVE IT ALL BUNDLE (THREE FREE ITEMS).  ORDER BY CLICKING BELOW.