2015-2016 Annual Catalog
Click to View Stampin' Up! 2015-2016 Annual Catalog
The following is a list of My Favorite Things (all new products) in the Stampin' Up! 2015-2016 Annual Catalog.  There are 10 fabulous stamp sets followed by 10 terrific tools and accessories.  It's never easy to narrow down my favorites (and it's my prerogative to find more favorites in the future, right)?  However, I hope this list inspires ideas and drills down to those products that I believe will be popular, versatile and smart additions to your paper crafting supplies. Thank you to my Stampin' Pretty Pals for their helping picking favorites at our virtual catalog stroll last month!
THE ULTIMATE STAMPIN' UP! BUNDLE .  Customize with the products you want & save!  Learn more . . . 
What new Stampin' Up! products make YOUR heart go pitter pat?  Please leave me a comment below.  I would love for you to share!
1.  One Big Meaning.  A sentiment set with seven beautiful ways to say "thank you!"
Page 16, $27.00 (Wood-Mount 138788) – $19.00 (Clear-Mount 139420)
2.  Me = Grateful.  A little bit of everything with a snazzy double line font.
Page 17, $28.00 (Wood-Mount 138786) – $20.00 (Clear-Mount 139319)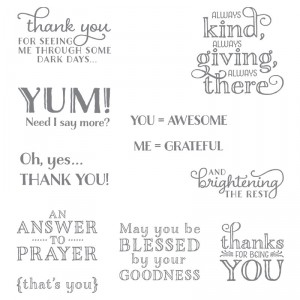 3.  No Bones about It.  This photopolymer set will be a grrr-reat to layer and perfect for the kiddos, boy or girl.   I have images of pink dinosaurs dancing in my head!
Page 43, $26.00 (138756)


4.  You're So Sweet.  Foodies rejoice!  These darling images and sentiments dress up goodie bags as well as cards, tags and more.  Coordinates with the Mini Treat Bag Thinlits Dies (p. 171).
Page 57, $27.00 (Wood-Mount 138682) – $19.00 (Clear-Mount 139440)
5.  Watercolor Wings.  For those of us who are watercolor "challenged,"  here's a simple solution for creating the look.  Photopolymer makes each step a snap!  Images coordinate with Bold Butterfly Framelits (new) and Butterflies Thinlits Dies, both on p. 172.  Save 15% when you purchase the Watercolor Wings stamp set and Bold Butterfly as a bundle!
Page 75, $26.00 (139424)


6.  It's Wild.  This background stamp reflects one of the hottest fashion and home décor crazes–animal print.  Layer it tone on tone for a subtle effect (love the pink framed sample on p. 101) or go "wild" with a more dramatic contrast.
Page 101, $20.00 (Wood-Mount 139430) – $15.00 (Clear-Mount 139565)
7.  Happy Happenings.  If you are looking for the perfect all occasion stamp set with uber cool fonts, this set should dash to the top of your list.  Images work with many Stampin' Up! punches and dies–especially dishy with the coordinating Label Bracket Punch.
Page 103, $28.00 (Wood-Mount138734) – $20.00 (Clear-Mount 139381)
8.  Tin of Cards Stamp Set.  This set of 20 photopolymer (clear) stamp sets is my #1 "must have" choice.  I love the simplicity and versatility.  Let's face it . . . we ALL want to get the Tin of Cards Project Kit (p. 110) and File Tabs Edgelits Dies (p. 172) to organize and recreate the look on the catalog cover.  Tin holds the 4 1/4″ x 5 1/2″ cards from the kit.
Page 110, $17.00 (Photopolymer 138946)
9.  Garden in Bloom.  Fresh, modern and simple to layer.  It works beautifully with the English Garden Designer Series Paper (p. 142) and English Garden Coordinating Cardstock Pack.
Page 119, $25.00 139433
10.  Definitely Dahlia.  This background stamp (I think Stampin' Up! rocked the background stamps in this catalog) helps you become an "instant" artist with just one statement stamp.  Soft and pretty layered or solo.
Page 129, $20.00 (Wood-Mount 138746) – $15.00 (Clear-Mount 139911)
MY TOP 10 NEW EMBELLISHMENTS & TOOLS
1.  2015-2017 In Color Cardstock and Ink Pad Kit.   You'll get fabulous mileage with these trendy colors that are strutting their stuff everywhere in fashion and home décor.  Watch my video demonstration for a close up look at the new In Colors.
Page 137, $32.50 138358
2.  Color Me Irresistible Specialty Designer Series Paper.   You loved this embossed 12 x 12 paper during Sale-A-Bration!  This collection includes both Whisper White that you can color as well as the 2015-2017 In Colors.
Page 142, $13.00 138439
3.  Pretty Petals Designer Series Paper Stack.   Pretty patterns perfect for card making in a new 6 x 6 size.  A smart buy when you purchase the coordinating Pretty Petals Cardstock Pack (love this new options for designer series paper).
Page 144, $8.00 138442
4.  Color Collection Paper Stacks.  Our background papers got a design makeover that makes my heart go pitter pat.  I love them all and the scale is "card friendly."  Choose from these collections:   2015-2017 In Color, 2014-2016 In Color, Brights, Regals, Subtles or Neutrals (Neutrals includes gold and silver).
Page 144, $22.00 2015-2017 In Color 138432, 2014-2016 In Color 138433, Brights 138434, Regals 138436, Subtles 138437, Neutrals 138435
5.  Whisper White Thick 8.5″ x 11″ Cardstock.  You asked for it and now it's available.  This thick 100 lb. weight cardstock will be perfect for card bases, 3-D (don't forget the new Tear & Tape Adhesive) and more!
Page 149, $7.00 140272

6.  Envelope Paper.    Make a statement with pretty, coordinating envelopes! Combine the Stampin' Up! Envelope Punch Board (p. 150) and the new Envelope Paper, you have a quick and easy "envelope making factory" for both standard and many custom sized envelopes!  Available in the 2015-2017 In Colors and Neutrals (Kraft, Whisper White, Very Vanilla).  Watch my video to see how easy it is!
Page 149, $6.00 ea.  Neutrals 138310, 2015-2017 In Color 138312

7.  Metallics and Brights Sequin Assortment.  Please sir, more sequins.  3 shapes (hearts, stars, circles) in both Metallics and Brights that will allow you to let your creative "randomness" soar!
Page 160, $5.00 ea. Metallics Sequins Assortment 138390, Brights Sequins Assortment 138389
8.  Banner Triple Punch.   This punch gets an A+ for making banners with flagged ends.  Has guides for 1″, 1 1/2″ and 2″ widths.  However, watch my video to see it in action and more size possibilities.
Page 165, $23.00 138292
9.  Tags & Labels Framelits Dies.   Crop sentiments, tags, create little frames.  So many possibilities with these new dies.  They are designed to work with the Big Shot Die Cutting Machine and Big Shot Magnetic Platform.
Page 173, $27.00 138282
10.  Brick Wall Embossing Folder.  Create a highly textured and trendy look with the Brick Wall embossing folder.  Add a butterfly, a simple sentiment or even a little "graffiti."  It's up to you!  Woo hoo!  Both Brick Wall and Fluttering (also new) Embossing Folders are a 6 x 6 size!
Page 174, $8.50 138288
FREE UPDATED AND OH, SO HELPFUL STAMPIN' PRETTY CHARTS:  They are all updated and pretty for you.  Just print and your paper crafting life just got easier!
I love hearing from you!  Please leave me your questions or comments below.


If you enjoyed this post, please be sure to . . .