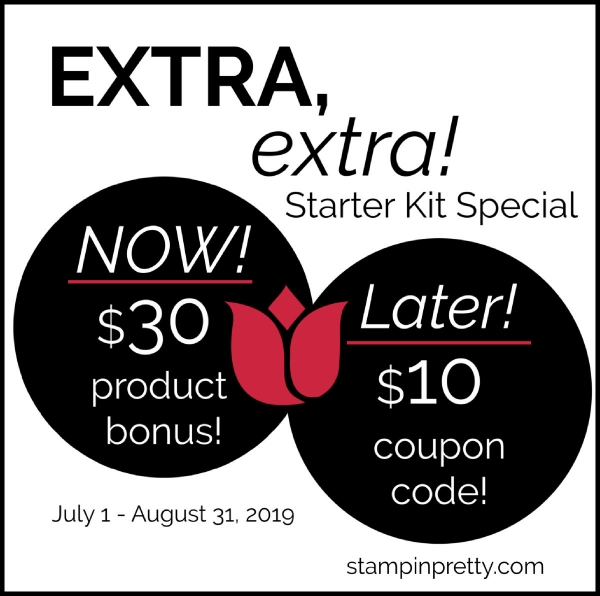 EXTRA, EXTRA! A TWO MONTH STARTER KIT SPECIAL!
VALID JULY 1 – AUGUST 31, 2019!
EXTRA – GET BONUS PRODUCT! Get YOUR CHOICE of up to $155 in products for $99 (that's $56 in free products, an additional $30 more than normal) and the kit ships FREE for another 10% savings.  You can include products from any current Stampin' Up! catalogs. 
EXTRA, EXTRA – GET A $10 COUPON!  Those who purchase the kit and join Stampin' Up! will be emailed a $10 coupon code the following month to redeem on an order placed by Oct. 31.
SAVE 20 -25% on personal demonstrator orders while you are active.
Learn more about the benefits of joining through me (by purchasing the $99 starter kit) here.
I WELCOME HOBBY STAMPERS!  Join just for you!   Prizes, friendship, oodles of stamping ideas & fun!
I love hearing from you!  Please leave me your questions or comments below.


If you enjoyed this post, please be sure to . . .