It's time to reveal My Favorite Things from the NEW Stampin' Up! 2023 Holiday Mini Catalog!
This is absolutely the most incredible product release Stampin' Up! has offered in a Holiday Mini Catalog since I became a demonstrator back in 2007! Yesterday's kickoff and swift sales confirmed that customers feel the same way! The products (available now) are a celebration of what every paper crafter wants – fresh designs, artful details and crackerjack coordination!
The list below of My Favorite Things from the holiday catalog barely scratches the surface of what I love but it's an excellent foundation!
O HOLY NIGHT SUITE COLLECTION – P. 14
WHAT I LOVE: Oh, Holy Night Suite. This suite and the inspiration samples will make you WANT IT ALL! For those that desire a more religious theme for Christmas, the Oh, Holy Night Suite is your dream come true of traditional sentiments and stunning design. The "gilded" Shining Brightly Designer Series Paper is a must-have! p. 14
HANDCRAFTED ELEMENTS DIES – P. 21
WHAT I LOVE: Handcrafted Elements Dies. This fun and versatile set of holiday dies can get missed as you zip through the catalog. Notice how the dies work together (the oval fits the ornament, for example) so you can layer texture and color. These dies went straight to my "must-have" list! The dies look fantastic with the bold Joy to You stamp set as shown in the catalog. p. 21
JOY OF CHRISTMAS SUITE COLLECTION – P. 28
WHAT I LOVE: Joy of Christmas Suite . . .HIT THE I WANT IT ALL BUTTON, AGAIN! There isn't one product in this collection I didn't swoon over. It "had me" at the big "NOEL" (Joy of Noel Bundle) and the Christmas Classics Bundle. It represents Christmas coordination at it's finest! p. 28
SENDING CHEER BUNDLE – P. 32
WHAT I LOVE: Sending Cheer Bundle. Dress up your gift giving and holiday cards with these sweet, modern and whimsical images. I am envisioning charming tags (it die cuts a little loop to hang) or a trio of colorful gifts popped up on a card. The dies are designed to layer (for example, the "fur" on Santa's hat or ribbon layered on the gifts) for a whole lotta personality. p. 32
WISHES ALL AROUND BUNDLE – P. 35
WHAT I LOVE! Wishes All Around Bundle. Craving a simple, modern and new spin on the traditional wreath? The Wishes All Around Bundle delivers. Zoom in to see the modern mini trees for the wreath or you can crop out individual trees for a custom pattern. My mind goes straight to a classy mix of black and white with red ribbon. Consider possibilities for year round, too. p. 35
ALL ABOUT AUTUMN SUITE COLLECTION – P. 43
WHAT I LOVE! All About Autumn Suite. Gratitude. Colorful fall leaves. Nature in transition. Those are the traits that I think of for Autumn and are so beautifully captured in the Stampin' Up! All About Autumn suite. The photographic All About Autumn Specialty Designer Series Paper is the foundation of a quick and simple card. The die cut leaves (gorgeous die cut veining for contrast) can take the style either modern or traditional. However, the real fall "magic" is in the many metallic details for rich layering and embellishing. p. 43
SO SINCERE STAMP SET – P. 47
WHAT I LOVE!  So Sincere stamp set. This stamp set promises excellent stamping mileage. It offers sentiments in chic fonts and covers oodles of occasions. I SPY the Abundant Beauty Decorative Masks, an uber cool set of layering stencils to help you "dauber your way" to a stunning sunflower.p. 47
THEM BONES SUITE COLLECTION – P. 48
WHAT I LOVE: Play "dress up" with the cutest skeleton ever. Cowboy hat, beret? Yes, please! Even the a skeleton cat and dog get to join the fun. You can even make them glow in the dark! Them Bones Designer Series Paper offers a yummy combination of Pumpkin Pie, Cajun Craze, Starry Sky and Basic Black in patterns (including plaid) that set the trend for Halloween chic! p. 48
GARDEN WALK SUITE COLLECTION – P. 52
WHAT I LOVE: Garden Walk Suite. The Garden Walk Suite is the essence of modern coordination that can be used for paper crafting year round. Don't miss the poinsettias for Christmas! The floral stamp images and designer series paper are playful and fresh. Take note of the sweet Blooming Pearls (COLORS) and Calypso Coral Braided Linen Trim. The Modern Oval Punch will make cropping and popping up sentiments on Stampin' Dimensionals a breeze. p. 52
THROUGHOUT THE YEAR STAMP SET &
DECKLED CIRCLES DIES – P. 61
WHAT I LOVE: Throughout the Year stamp set. The Throughout the Year Stamp set is the "Cadillac" of covering the most popular card making holidays. It should be a #1 choice for a beginner as well as a seasoned paper crafter! p. 61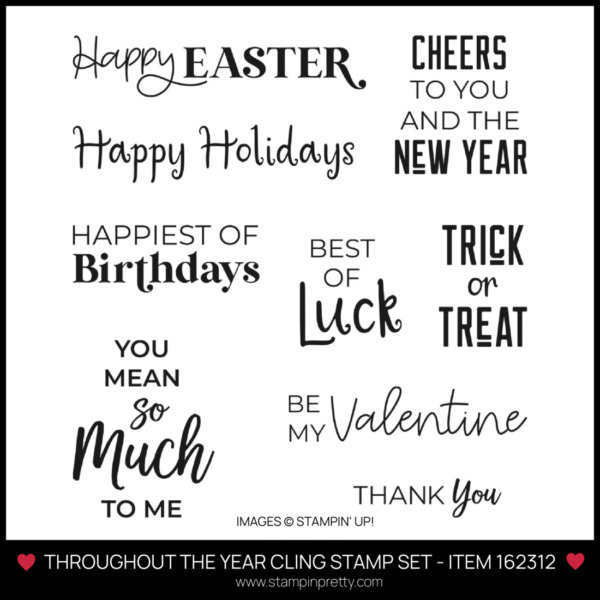 WHAT I LOVE: "Deck" the Halls with Deckled Circle Dies. This nested die collection creates a ruffled edge that brings instant texture and WOW! to your paper crafting. Look what they did with the place setting! They are a GO TO in my craft room! p. 61
HONORABLE MENTION
MERRY BOLD & BRIGHT SUITE COLLECTION – P. 8
WHAT I LOVE: This collection makes me smile. The retro vibe is sassy and cool. However, if you want just a "splash" of the suite without a full commitment, grab. the Merry & Bold Designer Series Paper, White Iridescent Ribbon and Iridescent Adhesive Disks. Oh . . . and the possibilities for birthday and other celebrations are calling me, too! p. 8.
SHOP MY FAVORITE THINGS!
NEED CATALOGS?
Need a print copy of the catalog and plan to place your order thru me? – REQUEST CATALOG
MY REWARDS PROGRAM
WHAT ARE TULIP REWARDS? Tulip Rewards are my way of personally saying thank you to my frequent shoppers. You earn a tulip for every $50 increment you spend on Stampin' Up! products through me and can redeem for up to a $50 shopping spree when you reach 10 tulips. I cover shipping, handling and tax on your spree, too!
$50 – $149.99 ORDER (total before shipping and tax):  MUST ADD HOST CODE: VQXK4RNB
$150+ ORDER (total before shipping and tax): PLEASE DO NOT ADD THE HOST CODE. Your tulips automatically qualify without the code and you earn Stampin' Rewards!