What are Tulip Rewards?  Tulip Rewards are my way of personally saying thank you to my frequent shoppers. You earn a tulip for every $50 increment you spend on Stampin' Up! products purchased through me and can redeem for up to a $50 shopping spree when you reach 10 tulips.  I cover shipping, handling and tax on your spree, too! 
PLEASE NOTE: Stampin' Rewards and my exclusive Tulip Rewards are based on your total PRIOR to shipping and tax and AFTER you apply any coupon code.
Orders of $50 up to $150 (total before shipping and tax) MUST include my exclusive host code in their order (SEE BELOW) for their tulips to qualify.  No exceptions, please.  Orders of $150 or more should NOT include the host code.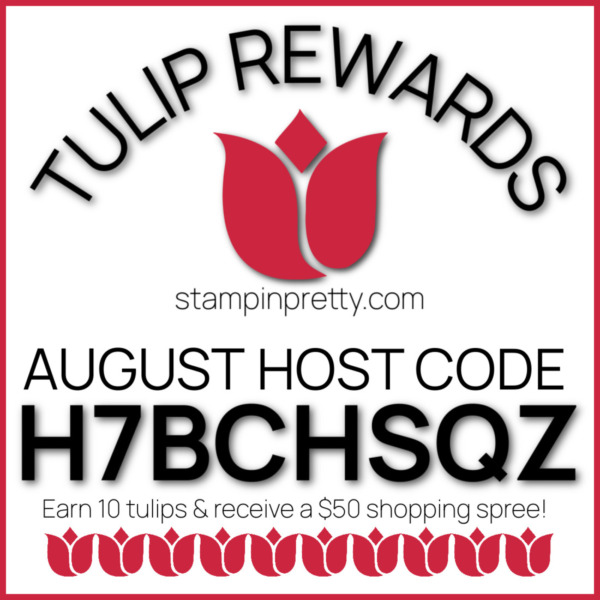 MY AUGUST HOST CODE EXPIRES ON AUGUST 31!
GET THE MOST BANG FOR YOUR BUCK DURING SALE-A-BRATION!
SALE-A-BRATION FREEBIES! ENDS AUGUST 31, 2022! Earn FREE Sale-A-Bration gifts at the $50 and $100 levels (total before shipping and tax).  No limit to how many gifts you can earn based on increments of $50 or $100.  SEE DETAILS HERE!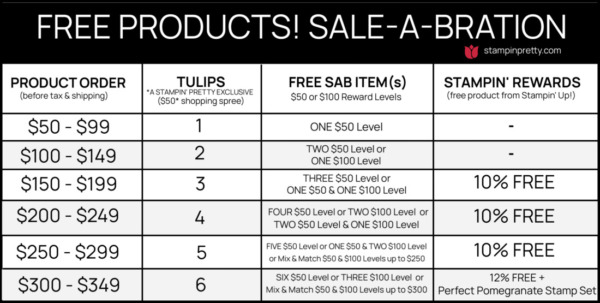 The chart above shows you how to maximize benefits (Sale-a-Bration and my exclusive Tulip Rewards).  You can earn my Tulip Rewards (one for every $50 you spend with me) using my current month's host code.   Qualifying total excludes shipping and tax.
---
HOW TO EARN TULIPS WITH MY HOST CODE: 
$50 – $149.99 ORDER (total before shipping and tax):  MUST ADD HOST CODE: H7BCHSQZ
$150+ ORDER (total before shipping and tax):  PLEASE DO NOT ADD THE HOST CODE.  Your tulips automatically qualify without the code and you earn Stampin' Rewards!
ALL qualifying orders MUST be placed through me.
Separate orders cannot be combined to reach a tulip.
YOU are responsible for tracking your orders and tulips.  Click here for my tulip tracking sheet. 
When you earn 10 tulips, please submit your qualifying tulip orders and product choices for your $50 shopping spree by using this form or email me.   I cover the cost of shipping and tax on your spree, too!

Please plan your order carefully and keep in mind you cannot go over the maximum amount of your spree. 
Clearance, retiring products, and some promotional items are excluded from sprees due to how quickly their inventories are depleted.  

I'll confirm your qualifying customer orders and place your shopping spree order within 3 business days of redemption.
Please allow an additional 7 business days for standard delivery of your order.
There is no deadline for redeeming tulips on orders placed on or after Oct. 1, 2018.  However, this program is subject to change, at my discretion.
---