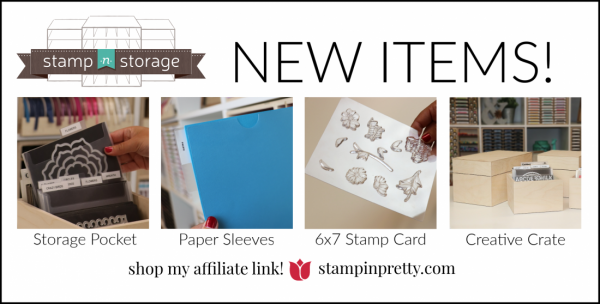 Stamp-n-Storage has introduced their latest products for organizing your craft studio! The
Storage Pocket
,
Paper Sleeve
, and
Stamp Card
provide solutions for storing paper scraps, labeling die sets, and organizing supplies like stamps and embellishments.  The
Creative Crate
offers versatile storage for your 5×7 and 6×7 Magnet Cards, Storage Pockets, Stamp Cards, and more.
Do you prefer storing your Magnet Cards in a clear pocket for labeling? How about Stamp Cards? The Storage Pocket is designed to hold 5×7 & 6×7 Magnet Cards, and  Stamp Cards.  Each pack includes twelve 6×7 Storage Pockets with tabs for easy labeling.
*Storage Pockets fit in the Creative Crate only, they do not fit in Wafer Die Totes or Emboss Folder Totes.  Labels not included.
Are you tired of searching for paper scraps?  Do you need a better filing system for your designer series paper? Stamp-n-Storage now offers the perfect solution.  These Clear Paper Sleeves are available in
12×12, 8.5×11 and 6×6 sizes
. Each sleeve has a tab for labeling and a cut out to easily access your paper or paper scraps. Organize just your scraps in the sleeve, or tuck all your paper inside to protect your paper from dust. They even fit in the Stamp-n-Storage Paper Holders (see below).
Each pack includes 15 clear Paper Sleeves with tabs and finger notch. Two sides are open for easily sliding paper in and out of the sleeve.  Labels are not included 
Organizing your stamps can be a challenge. That's why Stamp-n-Storage designed the Stamp Card. Easily store your photopolymer and cling stamps on the clear and sturdy Stamp Card.
6×7 Stamp Cards fit inside Storage Pockets for labeling, and can be stored in the Creative Crate.
Each pack includes twelve 6×7 Stamp Cards.
The Creative Crate is the perfect storage solution to hold 5×7, 6×7 and 8×7* Magnet Cards, the Stamp Card, emboss folders, AND Storage Pockets.  Available in three sizes and with or without a cover, the Creative Crate keeps your dies, stamps and emboss folders within hand's reach and easy to flip through.
The Creative Crate is a more versatile storage solution that will replace the Stamp-n-Storage Wafer Die and Emboss Folder Totes.
*8×7 Magnet Cards fit Medium and Large Creative Crates without covers only.
How many Magnet Cards will fit inside Creative Crates?  (does not include pockets)
Small – 25 Magnet Cards 
Medium – 50 Magnet Cards
Large – 100 Magnet Cards
Click below to watch the video tour of my Stampin' Pretty Studio.  You'll see many Stamp-n-Storage products in action! 
Here are my favorite Stamp-n-Storage products and tips on how I incorporate them into my Stampin' Pretty Studio.
Magnet Cards.  I use the magnet cards (5 x 7) for neatly storing my Stampin' Up! dies. 
The All-New Storage Pocket (shown below) is designed to hold 5×7 & 6×7 Magnet Cards, and  Stamp Cards.
Click to shop Stamp-n-Storage Paper Storage Holder options, including the NEW 6 x 6 and 8 x 8 storage options: Paper Storage
Punch Storage.  I use the Lock-Down Punch storage.
Ink Pad, Marker, Ink Refill Combination.  Different sizes and configurations to fit your space.
Stampin' Blends Markers.  Looks so pretty with Stampin' Blends marker colors displayed and ready to go.
Magnet Pad – the perfectly sized shim with a magnetic bonus for stamping with the Stamparatus.  Watch my video with before and after results using the Stamparatus here!
PLEASE NOTE:  I receive a small affiliate fee when you use my Stamp-n-Storage shopping links. However, I can't say enough about how these quality products help me stay organized and highly recommend them.
Want to see the new catalog now?  Click to view the new catalog on-line!  Here's a FREE Wish List to print and help you keep track of your favorites!
Get a copy of the 2019 Holiday Catalog!  If you are not a current Stampin' Pretty customer and you plan to shop through me, you can request a copy of the holiday catalog free by visiting my page here.   
Click on the images below to see details of each special offer! 
I love hearing from you!  Please leave me your questions or comments below.


If you enjoyed this post, please be sure to . . .