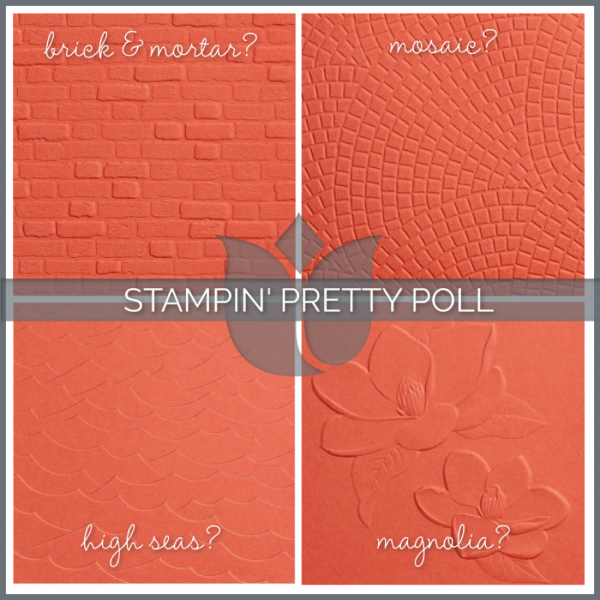 Today's Stampin' Pretty Poll asks YOU to choose which NEW Stampin' Up! 3D Embossing Folder from above you would like me to use on a project.  Please make your selection at the poll below and click on the "vote" button!  You'll see the totals once you vote.  The deadline for voting is Thursday, June 27th at 12:00 p.m. Mountain.  The poll will be closed at that time.
I'll share the results of the poll on Saturday, June 29th, with a project using the winner!
If you are viewing this post by email, please click HERE (or click the title of the email) to reach my blog and vote.  You cannot vote directly from the email.
---
For best results, use the 3D Embossing Folder Plate with all of Stampin' Up!'s 3D Embossing Folders RELEASED AFTER JUNE 4, 2019.  View the PDF Flyer here. 
Dynamic Embossing Folders (Purchased before June 4, 2019) will use the following sandwich:
Platform Base (Bottom) / Dynamic Embossing Folder (Middle)/ Standard Cutting Pad (Top)
Newly Released 3D Embossing Folders (Purchased after June 3, 2019) will use the following sandwich:  
Platform Base (Bottom) / 3D Embossing Folder (Middle) / 3D Embossing Folder Plate (Top)   **or**
Platform Base (Bottom) /3D Embossing Folder (Middle) / Standard Cutting Plate & Several Shims (cardstock, etc)
The new plate makes up the difference in measurement between our old-style Dynamic Folders and our new-style 3D Folders in 21 mm gap machines (similar to the machine we used to offer). The 3D Embossing Folder Plate replaces the Standard Cutting Pads in your 3D embossing folder sandwich for continued high-quality emboss results.
---
CARRYOVER 3D Embossing Folders: All carryover 3D embossing folders from our new manufacturer will not be in stock beginning with the June 4th catalog launch but I will let you know when they are available to order.  They anticipate stock arriving in 1 to 2 weeks.   The following folders are those that are affected:
Basket Weave 3D
Corrugated 3D
Country Floral 3D
Lace 3D
Layered Leaves 3D
Pinewood Planks 3D
Seasonal Wreath 3D
Subtle 3D
Tin Tile 3D
Tufted 3D
---
I love hearing from you!  Please leave me your questions or comments below.


If you enjoyed this post, please be sure to . . .