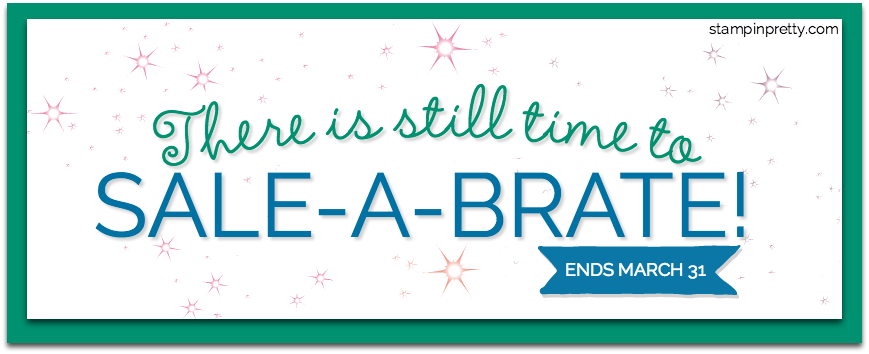 Today is the LAST DAY to take advantage of Sale-A-Bration.  View ALL SALE-A-BRATION gifts you can earn in my on-line store – CLICK HERE.
Here are ALL three Sale-A-Bration FREE gift releases.
View the 1st Sale-A-Bration brochure 
View the 3rd release flyer (be sure to use product numbers in flyer)
Enjoy Sale-A-Bration 3 Ways:
ONE:  You can earn FREE Sale-A-Bration exclusive products for every $50 or $100 you spend based on your total before shipping and tax.  
If you spend $50, you earn one free level 1 product.
If you spend $100, you earn one free level 2 product, OR, you can choose two level 1 items.
If you spend $150, you have the option to choose three level 1 items or one level 1 item and one level 2 item.  You'll also qualify at $150 for Stampin' Rewards (more FREE products).
Earn 10 tulips and get up to a $45 shopping spree with my Tulip Rewards Loyalty Program
Earn FREE Snail ($75 order) with my Monthly Host Code Offer.
TWO:  BIG WISH LIST?  Place an on-line order of $250 or more and get $25 BONUS in additional Stampin' Rewards.  You'll also earn a FREE Sale-A-Bration product for every $50 you spend (total before shipping and tax) or a combination of level 1 and level 2 gifts per above.
INDULGE IN THE ART OF STAMPING – RISK FREE! 
THREE:  THE BEST VALUE OF ALL PLUS 2 FREE STAMP SETS!  CREATE YOUR OWN $99 KIT!  The Stampin' Up! $99 Starter Kit is the Ultimate Stampin' Up! Bundle.  Get YOUR CHOICE of up to $125 in products for $99 (that's $26 in free products) and the kit ships FREE for another 10% savings.  You may include Occasions Catalog as well as Annual Catalog products in the kit.  Sale-A-Bration rewards do not apply to the $99 Starter Kit purchase.  It's already a fantastic deal!
BONUS ENDS TONIGHT (3/31)!  ADD TWO FREE STAMP SETS (ANY PRICE) of your choice to the $99 Starter Kit during Sale-A-Bration.  That's up to an additional $101 value!   Host Rewards & Sale-A-Bration stamp sets are excluded as free stamp sets.  Sign up on-line here to purchase your kit thru me.
HAPPY SHOPPING!  Enjoy 20 – 25% off Stampin' Up! products on subsequent orders from the day you purchase the $99 Kit and join Stampin' Up! (demonstrator status and perks) through at least July 31, 2018.   There's no penalty to drop and no risk!  See what you get in the kit and additional benefits here!
I WELCOME HOBBY STAMPERS who purchase the $99 Starter Kit thru me.  You'll instantly become a member of my exclusive Stampin' Pretty Pals Virtual Community (daily stamping discussion, prizes, polls, resources, recognition, friendship, fun)!  Always pressure-free!
ABOUT ME.  Learn more here about my Stampin' Up! journey, success, my passion for paper crafting as well as for my Stampin' Pretty Pals Community!
Have a question?  I'm here to help!  Please email me here.
IT'S EASY!  CLICK HERE TO PURCHASE THE $99 KIT AND JOIN NOW!

It's clear this group has developed and become a true team through your leadership.
Deanna H. – a  member of the Stampin' Pretty Pals Community
I'm so glad I joined your team and can be a Pal.  It's truly a positive force in my life every day! 
Mary H.- a member of the Stampin' Pretty Pals Community

I simply adore being part of the Pals and stretching my own creativity.
Michelle G.- a member of the Stampin' Pretty Pals Community
MY MARCH BONUS GIFT: SNAIL ADHESIVE
A STAMPIN' PRETTY EXCLUSIVE OFFER!  ENDS TODAY (3/31):
  PLACE A PRODUCT ORDER OF 
$75 or more
 (total before shipping and tax) through me in my 
on-line store
 this month and you can earn the Stampin' Up! SNAIL Adhesive FREE.   Get full details and learn how to use my host code in your order 
here
.
The SNAIL Adhesive will arrive separately from your order in mid-April.
My Stampin' Pretty Frequent Shopper Tulip Rewards are my way of personally saying "thank you" to my returning customers.  Earn up to a
$45 shopping spree from me
.  You may choose Stampin' Up! products from
ANY
CURRENT
Stampin' Up! catalog.  Get the details on my Tulip Rewards program 
here.
I love hearing from you!  Please leave me your questions or comments about the project for today.


If you enjoyed this post, please be sure to . . . 

My project supply list. Click products to shop on-line!