February 8 – February 12
Buy ONE Fast Fuse Adhesive and get TWO Fast Fuse Adhesive refills for FREE!  This sale starts today and ends Feb. 12 or while supplies last.  Be sure to stock up (NO LIMIT while supplies last) & save!  I love Fast Fuse for it's added strength and refills that are over 8 yards longer than Snail refills. 
To get your FREE refills, add Fast Fuse Adhesive to your order (item 129026); the TWO Fast Fuse Adhesive Refills will be added to your order automatically. Once they've been added, the price listed for the TWO refills will show $0.00! 
Watch these videos by Stampin' Up! for tips and how to get "the knack" of using Fast Fuse.
Click products to shop on-line!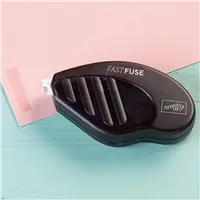 Price: $10.00 + 2 FREE REFILLS!
I love hearing from you!  Please leave me your questions or comments below.


If you enjoyed this post, please be sure to . . .