Click on the Stamparatus video above to watch!
In yesterday's post, I highlighted the splashy, new products from the Picture Perfect Party Suite.  They will be available Jan. 3 when the Stampin' Up! Occasions Catalog begins.  The video above shares a closer look at the birthday card I created with the products as well as tips for layering the sentiment on the candles using the Stamparatus stamp positioning tool – a new way to stamp with precision!
I love hearing from you!  Please leave me your questions or comments about the project for today.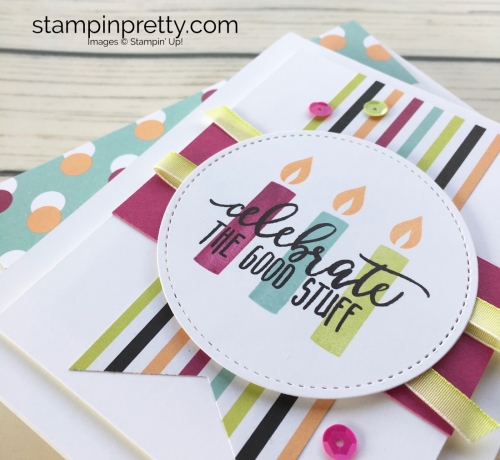 See original post and details here.
THE LAST DAY TO RESERVE A STAMPARATUS IS SATURDAY, DEC. 30.   Click here for details on how to reserve this amazing stamp positioning tool.  Dec. 30 is the last day to reserve the Stamparatus and receive it prior to the Annual Catalog release in June, 2018.  

MORE HELPFUL RESOURCES!
Get the 411 on Stamparatus benefits, features and a Stampin' Up! video demonstration here.
Shop for Stampin' Up! Uninked Stampin' Spots to use with ink refills.  The smaller size makes inking stamps using the Stamparatus easier.
Amazon Absorber Cleaning Cloth.
Amazon Bar Magnets (Pack of 2).  The Stamparatus comes with two bar magnets.  However, it's nice to have these on hand in case you need a backup.  Please be careful – magnets can snap with accidental contact.
I love hearing from you!  Please leave me your questions or comments below.


If you enjoyed this post, please be sure to . . .