Lucy gets to hang out in my studio much of the day.
I can't tell you how many times I have said "never another dog" since my little Isabel (pug) died 4 years ago.  She was 14.  I lost a piece of my heart when she was gone.  She was perpetually at my feet when I blogged or crafted.
Something changed three months ago.  My family and I adore ("covet") our two rescue cats, Sasha (the "princess") and Boris (the "big baby").  They rule the house, furnishings and bathroom sinks – we wait to brush our teeth while they drink first – you get the idea.   However, after much discussion we decided that it might be time to consider a rescue dog.
I love hearing from you!  Please leave me your questions or comments about the project for today.

Seriously.  We looked at hundreds of dogs at the local shelters and rescues.  I realized quickly that I kept looking for that cute little "smoosh" of a pug face and didn't allow myself to feel any connection.  I even felt I was mourning the loss of Isabel all over again.
Looking  very "Audrey" among the pillows.
My daughter, Caroline, convinced me to visit a no-kill adoption center and I reluctantly agreed.  Caroline spotted a female mix in the "small dog kennel" and said we should meet.  The dog was incredibly shy (painfully frightened) but sweet.  She had been exposed to cats (a bonus for Sasha and Boris). The staff explained that she was about 2 years old and had been a street dog and then in shelters for the last 10 months.  Essentially, she never lived in a home, was never trained, socialized or housebroken.  In spite of those challenges, I felt a little "pitter pat" when meeting her and thought we possibly might be her forever family.
After sleeping on it and a family meeting, we decided to adopt Lucy.  The adoption center believes she is primarily a Meagle (Miniature Pinscher and Beagle – if you see Dachsund, that's the Min Pin).  She weighs just under 20 lbs.  Heaven knows we will never be able to confirm her "family history" and it doesn't really matter other than she couldn't be further in "design" from my Isabel.  That has proven to be a good thing because we could all bond with a new dog rather than comparing her.
"I enjoyed when my family let me stay with them at this dog -friendly B & B"
In the past three months, I have learned a lot about patience and love.  Having a shy, unsocialized dog isn't easy and can be very emotionally draining.  There were many tears and frustrations when progress was minimal.  She was terrified of people (especially men), dogs, the new home – pretty much everything was a "big, scary monster" to her.  We had to dial down our expectations of having an instant family pet and learn that this was going to be a very slow process.  Lucy couldn't walk past a stranger without cowering or lying down on our daily walks.  My mantra became:  Baby steps, Mary.  Baby steps.
Lucy eyeing the doggie biscuits at a local bakery.
A local dog trainer suggested that we take her to dog friendly restaurants to help her conquer her "stranger danger" and "socialize."  Tucson is loaded with them.  This proved to be a big hit with Lucy and we visited several times a week.  She is especially fond of fresh baked croissants (she only gets a wee bit) and prosciutto.  Lucy is a street dog with a gourmet palette.  Silly, I realize, but I think she deserves a few nice things in life.  Don't you?  She has slowly, warmed up to strangers (especially if they offer a treat).  She still is learning to trust and can be unpredictable on whether she will be social or hide when someone visits.  Baby steps . . .
I'm always game for a car ride.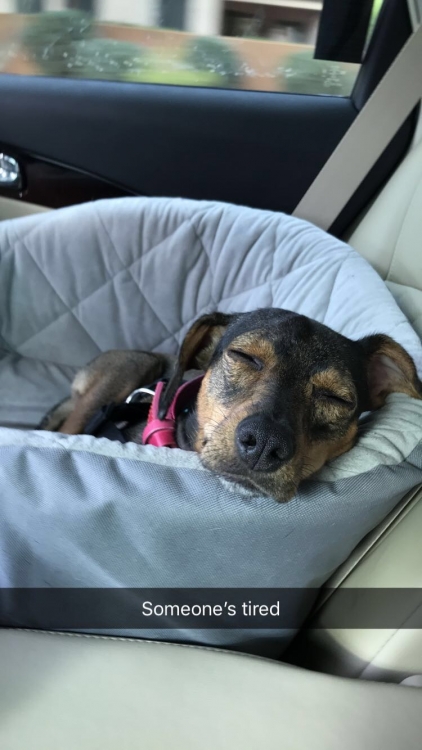 Here's what I get to brag about at this point.  Lucy has never had an "accident" in the house.  She adores her morning walks with Caroline and me.  When she isn't nervous, she will respond to just about any command and especially loves "fetch."  She has just one class to go to graduate from her beginner's dog training (and there will be more classes in her future).  Our next hurdle will be to help her socialize with other dogs.  The good news is that she is less afraid of dogs than she was and simply needs to focus on better manners when greeting them and wanting to play.  Interestingly, she and Boris are fast friends and love to chase and play with each other.  Sasha finds their playful antics fairly boring . . . but that's OK.  
Since it's Thanksgiving Day, I wanted to share our story and how grateful we are that Lucy is in our lives.  It's been a journey for my family, filled with heartbreaking moments when we questioned whether we had done the right thing to having this sweet little thing that had been overlooked for so long curled up next to us on the bed or couch (yes, the "furniture rule" changed quickly).  I especially melt when she cuddles up to my husband since learning to trust men has been so difficult for her.  Thank goodness the two of them could bond over football and smoked cheddar cheese (her favorite).
I hope you have a beautiful day with friends, family and fur babies.  We have 26 people coming over to celebrate and Lucy may prefer the quiet of our master bath.  Perhaps she will venture out for a visit.   We'll let her decide.  Baby steps . . . 
Hugs & Happy Thanksgiving, Mary
P.S.  My Lucy is by my feet while I draft this blog post.  Life is good.  She has found her forever home.