These 15 paper crafting projects are loaded with creative ideas and Stampin' Up! products.  They were designed by the talented members of my Stampin' Pretty Pals Virtual Community and give you a range of styles and inspiration!  Links to blogs or Pinterest have been provided (when available) for more details.
REQUEST A NEW STAMPIN' UP! 2017-2018 ANNUAL CATALOG HERE!
I love hearing from you. If you have a question or thoughts to share about today's post, please, COMMENT HERE.
Nicole Watt – blog details
Su Mohr – blog details
Mary Hanson – blog details
Sharon Caughman – blog details
Kim Jolley – blog details
Jeanie Stark – blog details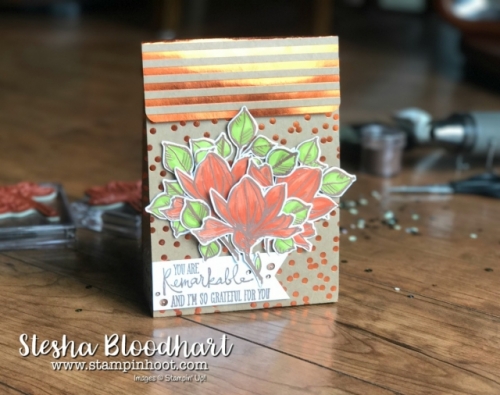 Stesha Bloodhart – blog details
Jennifer Spiller – blog details
Julie DiMatteo – blog details
Debi Meissner – blog details
Jackie Beers – blog details
Lori Pinto – blog details
Michelle Gleeson – blog details
Marcelyn Churchill
Pamela Sadler – blog details
ONLY 8 DAYS LEFT!  JULY STARTER KIT DEAL!  When you purchase the $99 Starter Kit in July (1 – 31), you'll get $125 in YOUR CHOICE of Stampin' Up! products for $99 (that's $26 in FREE product and the kit ships FREE) PLUS receive a BONUS Essentials Gift Pack & FREE Stamp Set worth $72 (July only) including:
Paper Snips ($10 value).  My favorite for navigating the curves of designer paper on an envelope flap.  Watch this video to see how.
SNAIL Adhesive ($7 value).  No mess and easy to use!
Grid Paper ($11 value).  Keep your work surface neat and tidy and measurements handy.
Two Clear Blocks (D) – (one for you and one for a stamping friend!) ($17 value)
Bone Folder ($7 value).  Add a little curl, score a card center or press the perfect fold!
FREE STAMP SET:  Carols of Christmas Stamp Set from the upcoming holiday catalog ($20 value).  A "must-have" for the holidays.  See images below!
That's an added $72 value FREE!  This allows you to spend your $99 starter kit dollars (to $125) on things like your favorite stamp sets and accessories!
WHAT ELSE DO YOU GET WITH THE KIT?  A 20% discount on future demonstrator orders, the opportunity to preview and order new Stampin' Up! products a month early, exclusive ideas and resources and much more with no obligation to host workshops or sell products and no penalty to drop.  I welcome hobby stampers who purchase the $99 kit and join through me (and get private and exclusive access to my friendly Pals Virtual Community).  LEARN MORE ABOUT THE KIT AND JOINING  HERE.
HAVE A QUESTION ABOUT  THE STARTER KIT & JOINING MY PALS?  Email me here.