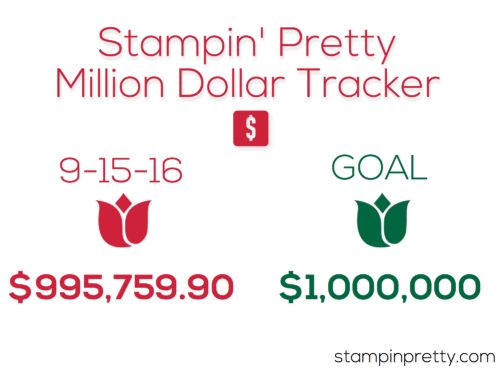 LESS THAN $5000 TO GO thanks to the excitement and sales generated by the Stampin' Up! Clearance Rack blowout this week (details below)!  I'm in the final stretch of my journey to reach $1 million in personal sales with Stampin' Up! since I began in 2007 – projected to be the 14th to acheive this milestone in Stampin' Up!'s 28 year history.  This is such an exciting time for me and I cherish all your kindness and support!
Clearance rack products are only available while supplies last!
HOT NEWS!  The Stampin' Up! added loads of new inventory to the Clearance Rack this week. Many items are as much as 60% off including oodles of holiday products, pretty paper, punches, dies and much more!  Scoop up your favorites at these awesome prices pronto since they are only available while supplies last.   
SEE WHAT'S ON THE CLEARANCE RACK HERE. 
SPECIAL OFFERS!  SAVE 25% on these select Stampin' Up! products September 15 – 21.  TIP:  These 25% off products are the perfect add-on items to your holiday catalog order or clearance products!
Save 25% on these select items September 15 – 21 only.
I love hearing from you!  Please leave me your questions or comments below.


If you enjoyed this post, please be sure to . . .