I have exciting news to share with you today!  I'm narrowing the gap of reaching $1 million in personal sales since my Stampin' Up! career began in September, 2007.  I'm projected to be the 14th demonstrator ever to do that.  For someone who was adamant that I was joining simply for fun and discounts, this is an enormous milestone for me!
I invite you to join me on my journey as I periodically share updates on my blog with my progress and will be sharing the details of the customer who puts me over the $1 million mark.  I had a phone conference this week with Sara Douglass (Stampin' Up! CEO) and her team to discuss the special trip they are planning for my  husband and me to Salt Lake City (lots of spa time, please) along with other cash and product bonuses!
If you would like to leave me a "virtual high five," you can comment HERE.  I would love your support as I rally forward!
A BIG THANK YOU!  I'm so grateful to Stampin' Up!, my customers and demonstrator friends (a huge shout out to my Stampin' Pretty Pals Community) as well as those who follow and support me each day on my blog.  My administrative assistant, Kris Kilcoyne, has been my right arm for most of this journey and has been crucial to my success!  Many of you have been around since my "early days," over 3600 Stampin' Pretty blog posts ago.  This has been such an incredible and fulfilling creative and business venture.  I never imagined it would blossom the way it has.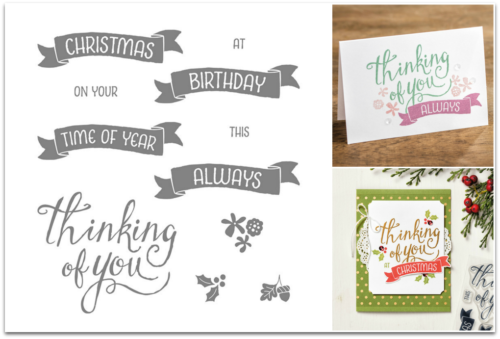 GET THE TIME OF YEAR STAMP SET FREE!
To really ramp up my September sales and help me get closer to $1 million in lifetime sales, I'm offering a FREE stamp set (Time of Year host exclusive) this month as my September Bonus gift with a qualifying order!  Please read details on how to qualify below.
DON'T MISS OUT!  Subscribe to my monthly newsletter HERE to get notice of my bonus gift offers & exclusive promotions each month!
SEPTEMBER BONUS GIFT & HOST CODE:  Place a product order of $75 or more (before shipping and tax) thru ME in my on-line store in September, enter the host code CRN4YV6Y (see below for where to add the code) and you will earn the Time of Year Photopolymer Stamp Set (p. 201 of the Annual Catalog) FREE.  This offer is exclusively available for on-line orders placed through me.   Your Time of Year stamp set will arrive in mid-October,  separate from your original order.
IF YOUR ORDER IS $150 MORE (before shipping and tax), you should NOT enter the code.  You will automatically qualify for the free bonus gift (Time of Year Photopolymer Stamp Set) from me as well as earn Stampin' (HOST) Rewards. 
This is where you enter the code in my on-line store!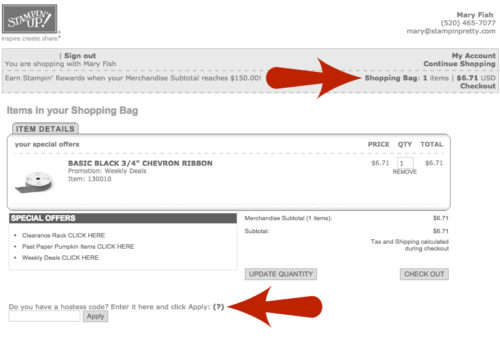 I love hearing from you!  Please leave me your questions or comments below.


If you enjoyed this post, please be sure to . . .