The word "watercoloring" when using the Gift of Love Photopolymer stamp set is perhaps a bit of a stretch.  As many of you know, I consider myself "watercoloring challenged!"  However, when there's an opportunity to create a gorgeous but ridiculously easy watercolored look, I'm all in.  I'll share a new WOW! video with you tomorrow to demonstrate how I "watercolored" this card and just how easy it was!
The Gift of Love Photopolymer Stamp Set is a new (exclusive) host rewards stamp set in the 2016–2017 Annual Catalog.  Learn how you can earn this stamp set FREE with an on-line product order of $150 or more here.  Starts June 1.
Products designated as new will be available for purchase June 1, when the Stampin' Up! 2016-2017 Annual Catalog begins.
STAMPIN' PRETTY TIPS:
My sketch for today's card was inspired by this week's Pals Paper Arts Sketch Challenge (PPA300).  It was designed by PPA team member, Sandra Conner.  See what Sandra and the rest of the PPA Design Team have created with this sketch here.
I inked up the new In Color, Flirty Flamingo, flowers.  See my reveal of ALL the new 2016-2018 In Colors and how they compare to the rest of the Stampin' Up! color collection here.
The thank you sentiment was cropped with the new Duet Banner Punch.
Part of the beauty of photopolymer stamps is that they have a little give.  I rounded "thank you" from the Gift of Love Photopolymer Stamp Set on a clear block so that it would match the curve of the punch.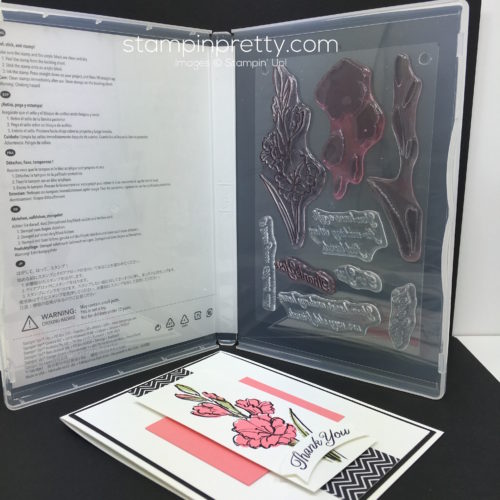 Hands down my favorite way to store photopolymer stamps is by sliding the image sheet in the outside sleeve (between the thin outer plastic and the case) and adhering the stamps to the inside of the case.  Watch my quick video for a closer look.
Hover and Pin it!  The photo below shows key products for today's Gift of Love thank you card that you can save or pin to Pinterest.  If you are viewing this post by email, you'll need to click the title of the post to access my blog and pin.  See ALL my labeled product photos in one spot on my How to Make Simple Cards board on Pinterest
NEED INSPIRATION?  See 100's of hand stamped card samples and paper crafting ideas in My Gallery.
I love hearing from you!  Please leave me your questions or comments about the project for today.


If you enjoyed this post, please be sure to . . . 
My project supply list. Click products to shop on-line!