Love the metallic thread as a soft and flirty detail!  Debra Simonis – details
Be inspired!  These eleven card and paper crafting picks are simply spectacular!  I love showing off what members of my talented Stampin' Pretty Pals Community have dreamed up using their paper, stamps and ink!  Each Sunday, I share their work as my Pals Paper Crafting Picks of the Week.  Let their creativity inspire your next paper crafting project!
The links below each paper crafting project will take you to the designer's blog (IF they have one) for more details, tips and a spot where you can add a comment or ask a question.  You can always leave a comment or question on this post, too.
DON'T FORGET!  Be sure to hover over the photos and pin your favorite card ideas to Pinterest. Easy peasy!
Crisp, festive and oh, so, Brian King – details
Pretty in pink for the holidays.  Lynn Hoyt – details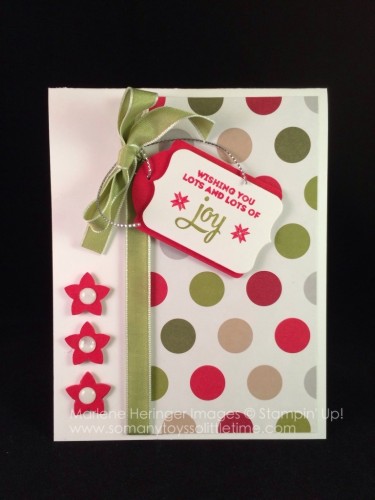 The layered sentiment really speaks to me!  Marlene Heringer – details
Yummy mix of metal and neutrals.  Kim Jolley – details
Very creative use of the twine.  Jessica Wilson – details
So classic and pure.  Shannon Jaramillo – details
Bold and beautiful die cut ornaments.  Windy Ellard – details
A fun and nostalgic tribute to the holidays!  Ginger Pelfrey – details
Magical use of layers and shine.  Jennifer Michalski – details
Marvelous floating "merry" in red foil.  Rosanne Mulhern – details
NEED MORE INSPIRATION?  Stop by My Stampin' Pretty Gallery for 100's of card making ideas, tips and a link to full details.
BLOG CANDY GIVEAWAY.  Check out what I'm giving away and play along here!
TOMORROW!  ON-LINE EXTRAVAGANZA SALE & SAVINGS UP TO 50%!  Starts Monday, Nov. 23 and ends Nov. 30.  Read more . . . 
I love hearing from you!  Please leave me your questions or comments below.


If you enjoyed this post, please be sure to . . .