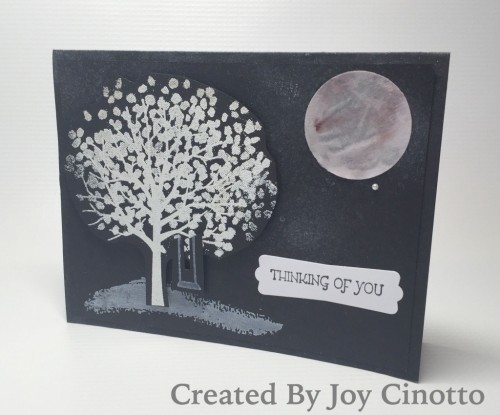 What a wonderful spin on the Stampin' Up! Sheltering Tree stamp set!  This night sky inspired card was created by Joy Cinotto, today's guest stamper and a member of my Stampin' Pretty Pals Virtual Community.
Joy's INSPIRATION:  Inspiration for this card goes far back to when I was a child. I was always drawn to the dark night sky's glow from the full moon and dancing, twinkling stars.
A TIP from Joy for the moon:  Basic Black marker & Basic Gray marker were scribbled onto the craft mat, and spritzed with water.  White Vellum card stock was laid on top of the spritzed ink, swirled gently and minutely.  A 1-3/4″ Circle Punch was used for the moon.
SEE MORE!  Head over to Joy's blog, Joy's Creative Insight — for more of her paper-crafting projects and details on today's card.

 JOIN MY FUN STAMPIN' COMMUNITY AND GET A GREAT DISCOUNT!
I WELCOME hobby stampers!  Take your passion for stamping and Stampin' Up! products to a new level when you purchase the $99 Starter Kit and join Stampin' Up! thru me HERE.  Plus you'll earn access to my private Stampin' Pretty Pals Virtual Community.   Choose up to $125 in products (that's $26 in free products) and the starter kit ships free for another 10% savings.
COOL BONUS!  Join now and take advantage of your chance to see and pre-order select items (including the yummy new In Colors) from the NEW 2015-2016 Stampin' Up! Annual Catalog!   Please email me if you have any questions.  I'm here to help!
I can't thank you enough for all you do for me and the other members of your group . . . I'm proud to say I'm a Pal.  Patti C.