ALOHA!  I'm in Honolulu, Hawaii and am so excited to be on the Stampin' Up! incentive trip with my husband and many of my demonstrator friends.  My "agenda" is to relax and read!  I'll share photos of trip highlights on my Stampin' Pretty Facebook Page.
I have a new Mojo Monday Sketch Challenge (MOJO397) for you today!
STAMPIN' PRETTY TIPS:
SNEAK PEEK!  A pretty flower and trendy font!  You've Got This stamp set is my favorite floral and sentiment combination in the new catalog.
SNEAK PEEK!  The sassy striped envelope is the new, lighter weight 2015-2017 In Color Envelope Paper.  It's designed to make creating custom sized envelopes with the Envelope Punch Board even easier.
SNEAK PEEK!  The Tip Top Taupe Blossom Accent (2015-2017 In Colors) jazzes up the sentiment.
SNEAK PEEK.  The Tip Top Taupe Stripe is from Cherry on Top Designer Series Paper Stack, now in an even better 6 x 6 size!
2 MORE PEEKS!  You are also seeing Watermelon Wonder (card stock) and Tip Top Taupe (card stock and ink), two of the new 2015-2017 In Colors
HAVE YOU SEEN MY STAMPIN' UP! PRE-ORDER PRODUCTS?  Watch this video for the big reveal.
THREE WAYS TO RECEIVE A FREE CATALOG FROM ME!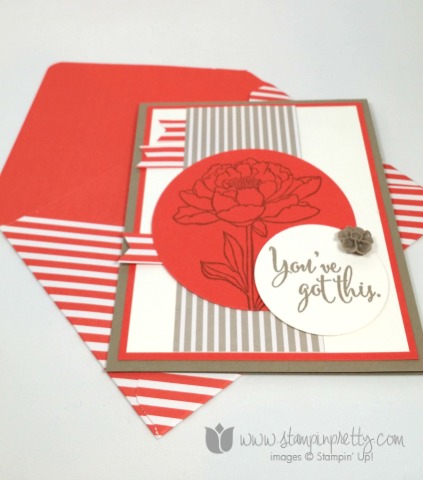 MY STAMPIN' UP! SUPPLIES RECIPE:  Please click on Stampin' Up! product images below for more details and easy on-line shopping.  Sneak peek products will be available June 2, 2015 when the new catalog is released.