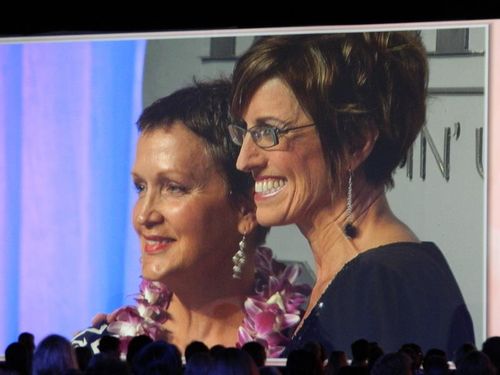 That's me on the jumbotron (left) standing next to Shelli Gardner (CEO and Co-Founder of Stampin' Up!) on awards night.  I'm taking an opportunity to boast a little bit today.  Awards night last Friday in Salt Lake City was the pinnacle of my Stampin' Up! career and I would love to share the details with my Stampin' Pretty friends!

This is the uber cool card Stampin' Up! presented to me as a congrats after my first trip across the stage (along with some fabulous gift perks).

DRUM ROLL, PLEASE!  Among approximately 40,000 U.S. demonstrators, I was:
#1 for the Most Promotions to Senior Associate (Recruiting)
#1 for Most Promotions to Supervisor and Up (Leadership)
#3 in Sales (up from last year–woot)! 

Here's what it looks like when they announce your name in front of 5000 people.  I still get goosebumps!
Lisa Pretto Ibinger (my wonderful upline), Brian King (my rock star downline) and me. All three of us were Rising Star Achievers at one time!
I also get to brag about my first Stampin' Pretty Pal Rising Star Achiever, Brian King.  Pal Pam Morris is his direct upline.  He was one of only 5 new demonstrators in the company to reach this goal AND made Stampin' Up! history by being the first male Rising Star!

Brian presented at convention and was a huge hit (all 6' 5" of him)! 

Other members of the Stampin' Pretty Pals were recognized for their sales and recruiting achievements as well.  In the Stampin' Up! Recognition Room (left to right):  Kris Kilcoyne (my amazing assistant), Ann Schach, me, Nicole Picadura, Brian King, Kerry Willard Bray, Ginger Toivonen and Sherri Gross.  Not pictured Liz Hughes.

THANK YOU!!!  I want to thank my blog readers, customers, fellow demonstrators and incredible Stampin' Pretty Pals for helping me achieve a dream come true!  Thanks to Stella MacKay, Nicole Watt and Kris Kilcoyne for contributing the photos.  The biggest thank you hug of all goes out to my niece, best friend and the best assistant ever, Kris Kilcoyne (pictured with me above)! 
JOIN STAMPIN' UP! AND MY PALS AND GET A FREE PROJECT KIT!  Purchase the Stampin' Up! Starter Kit thru me (just $99 and you pick $125 of your choice of product), get a FREE project kit and enjoy all the benefits of being part of the Stampin' Up! family and my Stampin' Pretty Pals.  What are you waiting for?  Ends Aug. 31.  LEARN MORE!
I'm truly GRATEFUL for you, the Pals, and how kind and professional our group is.  Kari Linder
YOU CAN HAVE IT ALL!  For those of you who would love to be part of the Stampin' Pretty Pals Community but
prefer to have a local stamping buddy or mentor, consider the Pals Partner Program!