MY FAVORITE NEW STAMP SETS
1. HOSTESS STAMP SET: HAPPIEST BIRTHDAY WISHES W122615, C122617, p. 10). I'm a "sentimental" girl and love the lively birthday fonts and stamps in this set that coordinate with punches. Don't miss the NEW Stampin' Up! Hostess Rewards Program.
2. SINGLE STAMP: TRIPLE TREAT FLOWER (W122909, p. 18). It won my heart with the fact that it coordinates with ALL three of the following punches: Fancy Flower (118073), 5-Petal Flower (119880) and 1/2″ Circle (119869). Think about quick and easy layers and creative color combinations.
3. HOLIDAY STAMP: BEAUTIFUL SEASON (W122680, C122682, p. 45). A stunning set ready for a touch of watercoloring or crisp when embossed in a single color.
4. IT'S A WRAP (W123590, C123592, 59). Just add Hershey's nuggets. Did you know they coordinate with Avery Mailing Labels? Wait until you see my new Nugget Purse Video! Coming soon!
5. UP, UP AND AWAY (w122755, c122757, p. 63). Mix and match patterns and sentiments. Have your Stampin' Dimensionals ready to pop these balloons up sky high!
6. PENNANT PARADE (W122740, C122742, p. 69). A row of pennants, holiday tree, ice cream cone . . . where does this set take your imagination? Hard to resist when there's a new Petite Pennant Builder Punch (122361) to coordinate. Game over!
7. BUTTON BUDDIES (W122735, W122737, p. 71). The little pig had me at "hello." Just add Stampin' Up! Designer Buttons and your "WOW" is cooking!
8. LOVE AND SYMPATHY (W122795, C122797, p. 76). Simple and sensitive. It reminds me of the retired Art of Life stamp set (which I loved). Remember that set?
9. FOR THE KIDDOS: I DIG YOU (W122720, C122722, p. 93). This set has us all clamoring to create for a little guy or gal. Little gal? It would be adorable in feminine colors and accessorized with punched flowers on the wheels.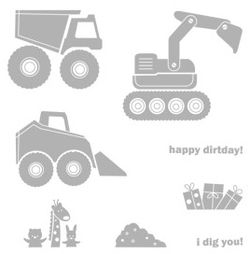 10. MY FRIEND (W122585, C122587, p. 139). I have been waiting for a big, bold sentiment stamp (like this set's "hello") since "Enjoy Every Moment" retired. Looks sophisticated in the Rich Razzleberry card above (an embossed silhouette would be stunning) and coordinates with Pocketful of Posies Designer Series Paper (122354)
11. DARING ADVENTURE (W122600, C122602, p. 145). Surprised to see this one on my list? The weathered look coupled with the Well Worn Designer Series Paper (122359) results in MY kind of vintage. No need to sponge or distress. Zoom, zoom to vintage vavoom!
12. GREETINGS. Picking a favorite sentiment stamp set was a toughie. This is a category where Stampin' Up! really rallied and where I will show very little "budgetary restraint." However, PURSUIT OF HAPPINESS (W121907, C121970, p. 157) answers the call for full phrases on card interiors. Of course, it's great on a card front, too. PETITE PAIRS (W122495, C122497, p. 164) gets an honorable mention for versatility.
PURSUIT OF HAPPINESS
PETITE PAIRS
MARY'S TOP 10 FAVORITE ACCESSORIES FROM THE NEW CATTY!
1. 2011-2013 In Colors: Pool Party, Calypso Coral, Lucky Limeade, Wisteria Wonder, Island Indigo. What's not to love?
2. Mocha Morning Specialty Designer Series Paper (122366, p. 183). Classy patterns that get the added punch of black flocking and metallic ink.
3. Domestic Goddess Designer Series Paper (122355, p. 184). I'm the last person who falls within the definition of "domestic goddess." However, those colors and patterns have me singing for the sixties!
4. Big Top Birthday Designer Series Paper (122348, 186). Bold, bright and fun!
5. Ruffled Ribbon (comes in the five 2011-2013 In Colors, p. 194). Charming ruffled edge and easy to tie.
6. Mini Clothespins (122942, p. 198). Unique and clever for clipping on a sentiment or hanging your tiniest shirts (just kidding on the shirts).
7. Cherry Cobbler (122949) and Tempting Turquoise (122950) Stampin' Emboss Powder (p. 201). You loved when Tangerine Tango, Wild Wasabi and Melon Mambo were added to the Summer Mini Catalog line-up. This was an automatic wish list item for me.
8. Clear Mount Foam (124236, p. 205): I fell head over heels for Stampin' Up!'s clear-mount stamps when they were introduced and haven't looked back. This clear-mount foam allows me to convert my wood stamps to clear. Dreamboat. Video coming soon!
9. Lace Ribbon Border Punch (122362, p. 211). What a statement this big border proudly makes!
10. Houndstooth Textured Impressions Embossing Folder (123134, p. 218). Stampin' Up! embossing folders give rich, patterned results and the new Houndstooth option is stunning.
CLICK TO ORDER STAMPIN' UP! PRODUCTS ON-LINE 24/7!