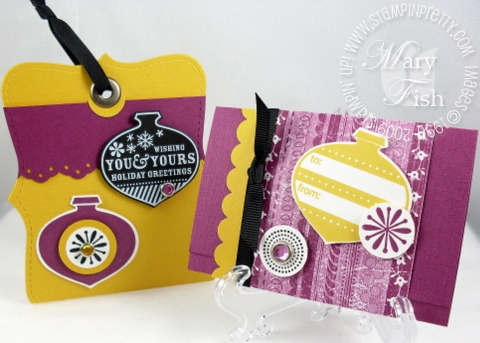 Whoa! These colors are about as
unconventional as it gets for the holidays. However, I was determined
to stick with the palette of Rich Razzleberry, Basic Black and Crushed
Curry to satisfy the Splitcoaststampers Color Challenge (CC237).
Nothing spurs my imagination better than a good challenge. All
Splitcoaststampers daily challenges are linked on my left side bar.
My virtual stamping buddy, Sandy, brought this seriously slick Top Note Gift Card Tutorial
to my attention from Canadian Stamper Deanna Tam. I had to give it a
try pronto. A second gift card idea inspired by my Stampin' Up!
demonstrator magazine is listed below. In an age where gift cards
"rule" for birthdays and holidays (just ask my teenage daughter,
Caroline), having lots of pretty ways to dress up the "plastic" is
divine.
STAMPIN' PRETTY TIPS:
The Delightful Decorations stamp set and the Ornament Punch I used (both from the Stampin' Up! Holiday Mini Catalog) coordinate perfectly.

The
Merry and Bright Rub-Ons further coordinate with the Ornament Punch.
The rub-ons include a sheet of white and silver (woo hoo) rub-ons. The
white really sings when layered over Basic Black.

I ran a snippet of Rich Razzleberry card stock thru the Big Shot
and dolled it up with the Eyelet Border Punch. It breaks up the
Crushed Curry background and fits the curves perfectly.
My Crop-A-Dile got a little action today when I needed to set the
Jumbo Eyelet. This handy dandy power horse makes me understand the
historically male fascination with tools. I dig it.
The gift card tucks inside (under the punched slit) and runs vertically.
Stamp Set: Delightful Decorations (116517)
Paper:
Crushed Curry Textured Card Stock (115538), Crushed Curry (115319),
Basic Black (102851), Rich Razzleberry (115316), Whisper White (100730)
Ink: Rich Razzleberry (115658), Jet Black Stazon (101406)
Cool
Tools: Big Shot Die-Cut Machine (113439), Bigz Top Note Die (113463),
Ornament Punch (116794), Eyelet Border Punch (113692), Slit Punch
(104388), 3/4″ (107217) and 1″ (109046) Circle Punches, Crop-A-Dile
(108362)
The
Perfect Touch: Merry and Bright Rub-Ons (116801), Basic Black 1/4″
Grosgrain Ribbon (109027), Jumbo Eyelets (108432, Pewter), Circle
Rhinestones (109110, Fire), Stampin' Dimensionals (104430)
This gift certificate is quick and easy and can be decorated for any occasion.
STAMPIN' PRETTY TIPS:
Create the gift card holder using textured card stock by scoring a 4″ x 7 7/8″ piece horizontally at 2 3/8″ and 5 1/8″.

Create a 2 1/2″ x 7 1/4″ wide belly band. Score at 2 1/2″ and 4 1/4″.
Punch a scallop border. Note: I
tried running the border the distance of the belly band (7 1/4″) and
score. Oops! The scallops don't line up in back. So I cut it down to
just run along the side in front.
Stamp Set: Delightful Decorations (116517)
Paper:
Razzleberry Lemonade Designer Series Paper (115675), Rich Razzleberry
Textured Card Stock (115538), Crushed Curry (115319), Whisper White
(100730)
Ink: Crushed Curry (115659), Rich Razzleberry (115658), Jet Black Stazon (101406)
Cool Tools: Scallop Edge Punch (112091), Ornament Punch (116794), 3/4″ Circle Punch (107217)
The
Perfect Touch: Basic Black 1/4″ Grosgrain Ribbon (109027), Circle
Rhinestone Brads (109110, Fire), Stampin' Dimensionals (104430)