How about those photos I promised from the Stampin' Up! Convention in Salt Lake City? I'm still reeling from all the excitement.  Many of these pictures were taken by my fellow Stampin' Up! demonstrator and dear friend,
Michelle Tech.
That's me accepting an award next to Shelli Gardner, co-founder and CEO of Stampin' Up!  I'm in complete shock.

Here's "the gang" at the Stampin' Up! Headquarters in Riverton, UT.  (Left to Right) Jess, Kris, Yours Truly, Mike and Michelle.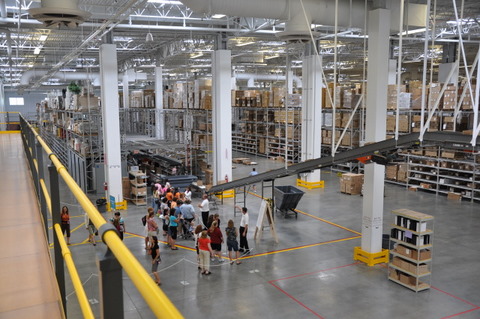 Here's where Stampin' Up! orders get boxed and distributed.  Immaculate.

Fabulous entertainment on stage.  Oh, to be so flexible 🙂

Build-A-Bear Halloween (Big Shot Die Cuts–cut fabric, magnetic sheets . . . think of the possibilities).

Ho, Ho, Ho!  This made my wish list instantly.

Vintage Ornaments (117580) D?cor Elements Stencils (on canvas).

Gorgeous decorated On-Board Journals.

Punches, stamps, Pretties.  Yeah, baby, jewelry in a flash!

Retired Utah Jazz Basketball Player, Thurl Bailey (nicknamed "Big T"), and Ms. Stampin' Pretty (he's the tall one–LOL)!
COMING UP:
Mojo Monday
kicks off a week of sketches to celebrate the 100th Mojo Sketch.  Be here Monday at 7:00 a.m. CST for the first of the seven daily sketches (Aug. 17-23).