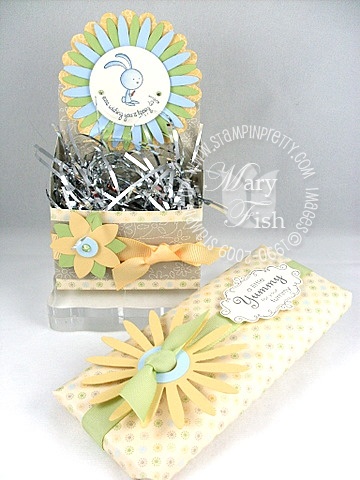 Isn't he sweet?  My blue bunny perks up this easy to assemble Round Top Box (Delicate Dots Designer Series Paper).  The template is part of this week's Splitcoast "Try a New Technique" Challenge (TLC208) and can be downloaded by clicking HERE.  You may need to reduce the image slightly when you print on a 8.5 x 11 piece of paper.
The bunny is from Stampin' Up!'s Animal Crackers stamp set.  I stamped it in Basic Gray on Stampin' Up!'s Watercolor Paper.  TIP:  To avoid "pilling" and control your color, use quality watercolor paper (like Stampin' Up! offers) and waterproof ink (like Stampin' Up!'s Basic Gray, Basic Black and Basic Brown Classic Inks).
TIP:  By squeezing my Bashful Blue Classic Ink Pad, I created a small pool of ink on the inside lid.  Using a Blender Pen, I added color to the bunny, focusing darker areas on the edges and left side (as if the sun is shining from the right).  A wee bit of orange is added to the carrot with the fine tip of my Stampin' Up! Pumpkin Pie Marker.  Two stick-on rhinestones provide a touch of bunny bling.
The bunny was cropped and embossed using a Big Shot Die-Cutting Machine and Circle Nestabilities (Nestabilities available at www.ucutathome.com).  Behind, I layered a Bashful Blue and Certainly Celery Daisy, created with Daisies #2 Flower Bigz Die.  Scallop Circle #2 Bigz Die is responsible for the So Saffron background layer. 
The flower on the front of the box combines two 5 Petal punches in Certainly Celery and So Saffron.  A 1/2" Circle in Bashful Blue topped by a stick-on rhinestone gives the center pizzazz.  The So Saffron 5/8" Grosgrain Ribbon coordinates beautifully.
I wrapped up a Cadbury Caramel Chocolate Bar (resisting all temptation to gobble it) in Delicate Dots Designer Series paper.  It's accented with Certainly Celery 5/8" Poly-Twill Ribbon and another Daisy using my Bigz Daisy Die. 
The flower center ring was created using a 1/2" Circle Punch (first!) then cropping again with a 1" Circle Punch.  TIP:  For a unique polish, I threaded the ribbon through the center and tied a knot. The "yummy" stamp was inked in Basic Gray, stamped on Very Vanilla and shaped with Paper Snips.  It's adhered Stampin' Dimensionals.
FREE SALE-A-BRATION PRODUCT WITH A $50 ORDER.  Like the products I used today? The "Yummy" stamp set, Delicate Dots Designer Series paper, So Saffron 5/8" Grosgrain Ribbon/Certainly Celery 5/8" Poly-Twill (packaged as a ribbon bundle) are exclusively available through Stampin' Up!'s Sale-A-Bration Promotion.  Earn each of them free with every $50 you spend on Stampin' Up! Products.
Click here for full details.
To Order Stampin' Up! Products On-Line 24/7, CLICK HERE!
BOX:
Stamp Set:  Animal Crackers (113395)
Paper:  Delicate Dots (114624, Sale-A-Bration Exclusive), Watercolor Paper (105019), Certainly Celery (105125), Bashful Blue (105120), So Saffron (105118)
Ink:  Basic Gray (109120), Bashful Blue (105209), Pumpkin Pie Stampin' Up! Marker (105115)
Cool Tools:  Daisies #2 Flower Bigz Die (114520), Scallop Circles #2 Bigz Die (113469), Big Shot Die-Cut Machine (113439), Nestabilities Circles (www.ucutathome.com), 5 Petal Punch (109041), 1/2" Circle Punch (104390), Blender Pen (102845)
The Perfect Touch:  So Saffron 5/8" Grosgrain Ribbon (114618, Sale-A-Bration Exclusive Ribbon Bundle), Stampin' Dimensionals (104430), Non-SU Stick-On Rhinestones, Silver Tinsel (Non-SU)
CANDY BAR:
Stamp Set:  Yummy (113782, Sale-A-Bration Exclusive)
Paper:  Delicate Dots (114624, Sale-A-Bration Exclusive), Bashful Blue (105120), So Saffron (105118), Very Vanilla (101650)
Ink:  Basic Gray
Cool Tools:  Daisies #2 Flower Bigz Die (114520), 1" (109046) and 1/2" (104390) Circle Punches
The Perfect Touch:  Certainly Celery 5/8" Poly-Twill Ribbon (114618, Sale-A-Bration Exclusive Ribbon Bundle), Stampin' Dimensionals (104430)