Today's post highlights a bit more of my Stampin' Pretty Stamping Zone and hopefully inspires a few ideas to make your own stamping space more organized and efficient.
NOTE: My designer paper and ribbon look a little sparse right now. I just cleared out most of the retiring accessories and the open spaces are ready to welcome the beautiful new options in Stampin' Up!'s Spring/Summer 2009 Idea Book and Catalog, available Jan. 19. It will be ready for download on the 19th on my right sidebar as soon as it's released. Need a copy delivered? CLICK HERE.
Once and for all, I wanted clear and open 12 x 12 storage for Stampin' Up's Designer Series Paper and 12 x 12 card stock. However, it doesn't come cheaply. These stackable, lipless, clear storage bins run $60 for 10. I purchased them for $49.99 (per set) on sale at
Scrapbook.com
. If you can get past the price tag, they are wonderful combined with Stampin' Up!'s 12 x 12 Dividers (105528, sold in packs of four). Perfect for additional organization and labeling.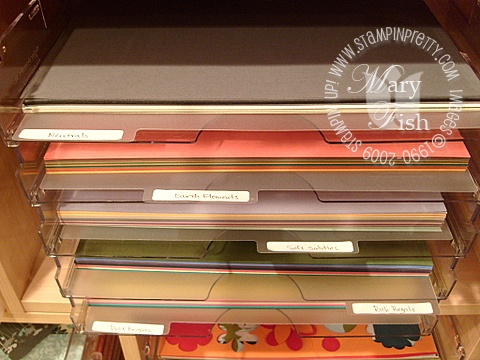 I divided my 12 x 12 Textured Card Stock by color family (108697-Earth Elements, 108695-Soft Subtles, 108696-Rich Regals, 108698-Bold Brights). Stampin' Up!'s Die Cut Blooms (111376) are tucked in below. The stackable trays keep both my paper and open storage shelving looking neat and tidy.
I use lots of In Color Textured 12 x 12 card stock (111345, currently on sale as part of Stampin' Up!'s Inventory Blowout) so each color gets it own little home.
TIP:
On a budget? Stampin' Up!'s 12 x 12 Paper Holders (115528, one is featured on the right) are a less expensive alternative. They hold up to 200 sheets and accommodate the 12 x 12 dividers (105529). I'm using mine here to keep paper scraps organized.
Stampin' Up!'s Ribbon Keepers (107634-Small, 107635-Medium, 107636-Large) turn ribbon storage into a little grosgrain and taffeta library. I love how they stack and are sized to coordinate with three different sized "wheels." With the three sizes stacked (large, medium and small on top), they are approx. 12" high, 6 3/8" wide and 4 3/4" deep.
These Rubbermaid X-Cube Shelf Savers are divine for marker storage and much more. The top box divides the markers by Stampin' Up! color families (105539-Bold Brights, 105539-Earth Elements, 105540-Rich Regals, 105537-Soft Subtles) and the lower holds the neutral markers (Neutrals, 109126), my blender pens (102845, right) and gel pens (non-SU, left).
These dusty blue magazine holders by Cargo are luscious to look at and keep my magazines and catalogs ready for duty. I purchased many different Cargo storage options (to be shared soon) at 50% off (plus free shipping that particular week) HERE. The colors choices are delightful.
I use Stampin' Up!'s Forget-Me-Not Keeper (105525, in the background) for organizing and storing my completed cards. It includes perfectly sized dividers which I label by occasion. I plan to get another as my valentine collection expands (and it was overflowing during the holidays). Since Miss Isabel (my aging pug) kept wanting her belly rubbed every time I got down low to take the picture, I allowed her in the shot once she willingly "struck a pose."
For all my Stampin' Pretty Stamping Zone tips in one place, CLICK HERE, or check out the nifty clickable photo I added to my left side bar . . . it will conveniently take you to "The Zone" any time.