Need cute and quick Halloween treats?  Grab Stampin' Up!'s Small Flat Cello Bags (#103104), Ghostly Greetings Designer Paper (#112463), the Stampin' Up! Top Note Bigz Die (#113463, now back in stock), Chills and Thrills Rub-Ons (111806) and M & M's and you're on the fast track.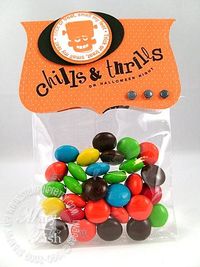 I wanted to have trick or treat goodies available for my book group tomorrow night (along with the bookmarks I made previously).  We will be discussing Mary Shelley's classic Frankenstein (1818), a far cry from the grunting monster popularized on film.  The "creature" is quite intellectual, compassionate, and, oh yes, he has a very scary temper.  The Frankenstein's monster stamp is from Stampin' Up!'s Batty for You (109363).  Trivia: The monster is not Frankenstein as we often assume, it's the scientist who created him. 
Now what do I make for dessert?