Hooray!  My Stampin' Up! order arrived yesterday with my latest fall/winter goodies and it's definitely time to "party hearty."  Although I enjoy the process, I have been busy reorganizing (and coveting) my new designer series paper, inks, stamps and embellishments.  Of course, I had to experiment with my new Big Shot die cutting machine, too.  As you'll see, it partnered beautifully with my beloved nestabilities. 
Since I like things "just so" in my stamping zone, I had little time for much creating in the last 24 hours.  Fortunately, all the new stamps are die cut so that aspect was a snap.  Our Creative Corner (OCC) had a challenge this week to create a project using NO designer paper and a maximum of FOUR layers.  I thought I could play by the "rules" and whip up a monochromatic set of cards showcasing the versatility of the "Party Hearty" set and prove to myself first hand that the Big Shot was nestabilities "friendly."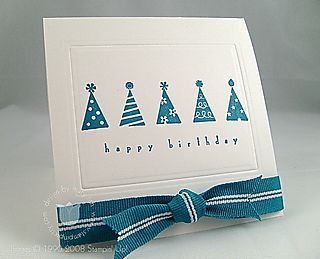 All three cards start with a 4.25 x 4.25 Whisper White card base.  The only color comes with a big pow–Pacific Point card stock and ink.  I love how crisp it looks against Whisper White.  TIP:  A Stamp-a-ma-jig (tutorial here) helped me position sentiments on each card and the hat stamp.
The party hat card incorporates the adorable hat stamp (all five hats on one stamp).  TIP:  You could easily color each hat a different color using markers or even color the triangle area a different color than the decorative top.  TIP:  Or stamp the image twice, cut out the triangles of the five hats from the second image and pop them up on dimensionals over the first image for some 3-D. 
The sentiment is from All Holidays.  I used the Big Shot with nestabilities rectangles to add embossing, mirroring the look and feel of fancy stationery.  The sumptuous new Pacific Point Double Striped Ribbon was a snazzy accent.

For the "party hearty" card, I stamped the present 6 times on Whisper White (Pacific Point ink) and punched them out with a 3/4" Circle Punch.  TIP:  Stampin' Dimensionals below each circle give this simple card an instant lift (excuse the pun).  I again used the Big Shot and rectangular nestabilities to add the rich embossing.  The sentiment and some silver micro brads (www.justbrads.com) contribute plenty of pizzazz for this card.

Finally, my cupcake guy.   I stamped the cupcake on Whisper White and snipped it out.  I next cut and embossed a circle of Whisper White card stock and a scalloped circle of Pacific Point, both fashioned with circle nestabilities.  Using a Stamp-a-ma-jig, I positioned the candles to pop up behind the cupcake and then layered the cupcake on top with Stampin' Dimensionals. 

Silver beads made delightful sprinkles.  TIP:  I have good luck adding these little cuties by dabbing a tiny amount of glue where I want the bead, and then sliding the bead off a needle (to keep it positioned upright) onto the glue–holding it for just a few seconds for it to adhere.  Using a Paper Piercer and Template, I jazzed up the corners then finished up using a Stamp-a-ma-jig to align the delicious "take the cake" sentiment.
Hugs and Pretties . . . Mary
Stamp Set:  Party Hearty, All Holidays
Paper:  Whisper White, Pacific Point
Ink:  Pacific Point
Cool Tools:  Stampin' Up!'s Big Shot, 3/4" Circle Punch, Nestabilities Rectangles and Circles, Paper Piercer and Template (Stampin' Up!'s Crafter's Tool Kit), Stamp-a-ma-jig
The Perfect Touch:  Pacific Point Double Striped Grosgrain, Stampin' Dimensionals, Silver Beads, Silver Micro Brads