No templates allowed!  This adorable basket, pillow box and scallop envelope were all created using the Big Shot and Bigz Dies, available to order on-line here, beginning September 2. Click here to download the Big Shot Brochure and pricing information.
Just a few easy turns of a handle and your done.  Not only is it a complete blast to produce these little babies, you could do party favors, gift cards, table settings and more incredibly quickly.  Did I mention it sets the score lines for clean folds, too?  My hero. The patterned paper for all these projects is from Stamin' Up!'s Parisian Summer.  Run with it.  It's tr?s cool!
I set up Big Shot 101 to help readers and customers sift through all the information (and misinformation) about the Big Shot and the release of Stampin' Up!'s exclusive dies. I am personally testing each product (I'm a "show me" kind of girl) for use and compatability. 
I have updated "101" since my last post to include information and tips on using the Bigz XL die for today's projects in both the Big Shot and Cuttlebug.  Click here for Big Shot 101.  If you are interested in or own the machine (or a Cuttlebug) and/or dies, please bookmark Big Shot 101 for future reference.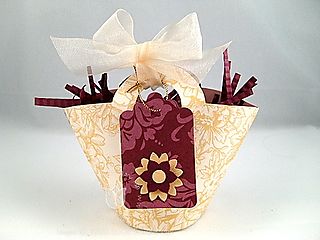 Using Stampin' Up!'s Bigz XL Baskets and Blooms die (6" x 13 3/4" x 5/8" thick–longer than the Bigz Dies which are 5.5" x 6" x 5/8" thick)), I produced this charming basket (approximately 3.5 " high).  It pops out in two pieces with small folds that you adhere and are hidden in the seam.  You next pop out the circle base in the same or a contrasting color.  The tag is also part of the Baskets and Blooms die.  I'm thinking hostess gifts, bridal showers, holiday table settings. 
BRIGHT IDEA:  Make your own coordinated paper shreds.  I simply used scraps of Bravo Burgundy, ran it through my crimper for some texture and converted it to slivers with my nifty shredding scissors.  Bingo!
Paper:  Parisian Summer Designer Series, Bravo Burgundy Textured, So Saffron Textured
Cool Tools:  Big Shot, Baskets and Blooms Die, Boho Blossoms Punch, 1/4" Circle Punch, Crimper, Shredding Scissors
The Perfect Touch:  Stampin' Dimensional (between the Boho Flowers), Gold cord (coming back in the holiday mini . . . shhhhh), and Vanilla Organdy Ribbon (retired Stampin' Up!)
And the other projects in the photo?   Details to follow on my next post.  Stay Tuned.
Hugs and Pretties . . . . Mary
NEED A CATALOG?   All
items listed above are current in Stampin' Up!'s Fall Winter 2008 Idea
Book and Catalog (over 200 pages).  You can download the entire catalog
(click the butterfly photo) for free on my right side bar or click here to order your own copy.