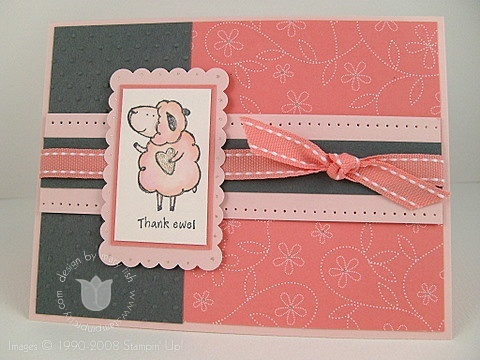 Pun Fun has adorable stamps that are divine for watercoloring.  The colors were inspired by this week's Splitcoast Stampers challenge . . . Blush Blossom, Groovy Guava and Basic Gray.  I love them together.  Soft and pretty.
I started with a Blush Blossom card base.  I next layered some Groovy Guava Designer Series Paper and some Basic Gray, which got a little embossing magic from Cuttlebug's Swiss Dots (isn't this embossing folder absolutely the coolest)?  I dotted the Guava flowers with a Sakura sparkle pen for added razzmatazz.
The horizontal banner begins with Blush Blossom and some added paper piercing action.  I next added a layer of Basic Gray to set off the Groovy Guava Double Stitched Ribbon.
My little lamb was stamped with Basic Gray (waterproof) on Stampin' Up! watercolor paper.  An Aqua Painter with a touch of Groovy Guava ink fills in the "wool" and a Blush Blossom Marker finishes off the face, legs and tail.  TIP: I used the Aqua Painter to remove some of the Blush and Guava inks for a more watercolored look.  The heart is filled in with more silvery "jazz" courtesy of the Sakura sparkle pen.
I matted my lamb on Groovy Guava and a Blush Blossom scalloped rectangle punch and launched it on Stampin' Dimensionals.  I dotted each scallop with a little sparkle pen, too.  Not baaaaaaad 🙂
Hugs and Pretties . . . Mary
Stamp Set:  Pun Fun
Paper:  Groovy Guava Designer Series, Groovy Guava, Basic Gray, Blush Blossom, Watercolor
Ink:  Basic Gray, Groovy Guava, Blush Blossom Marker
Cool Tools:  Paper Piercer and Template (Stampin' Up!'s Crafter's Tool Kit), Aqua Painter, Marvy Uchida Giga Scalloped Rectangle Punch, Cuttlebug
The Perfect Touch:  Groovy Guava Double Stitched Ribbon, Stampin' Dimensionals, Sakura Gel Pen (Sparkle), Swiss Dots Cuttlebug Embossing Folder
Other Inspiration:  Splitcoast Challenge CS172