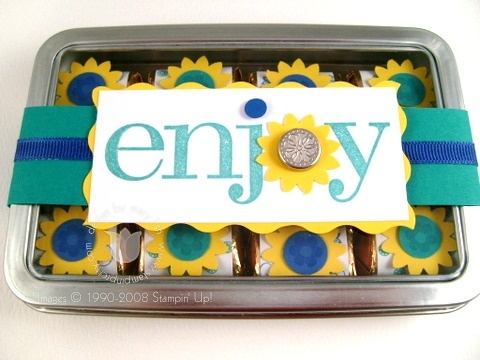 Today's tutorial on creating a decorative nugget tin (plus bunches of photos and other cool tidbits) will offer a lucky reader a way to "enjoy" some blog candy in the truest sense. 

Simply leave me a comment on this post disclosing your favorite candy by 5:00 p.m. CST, Saturday, April 5.  I'll choose a winner at random and pop today's tin of decorated Hershey's Nuggets (with Almonds, yum) in the mail to you (domestic U.S. only, please).  You can click on photos to enlarge.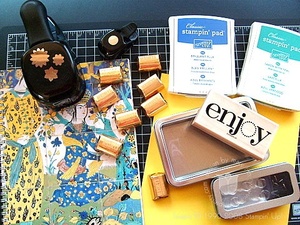 My weekly calendar of Asian art (featured) inspired the colors for today's post.  Please ignore the Build-A-Brad tin . . . I had it in mind for the "o" in enjoy when I assembled my supplies but switched gears (no surprise here) to the flower punch and Styled Silver brad.  It's a woman's prerogative to . . . . .

TIP: I used Avery 8160 mailing labels, which fit neatly around Hershey's nuggets.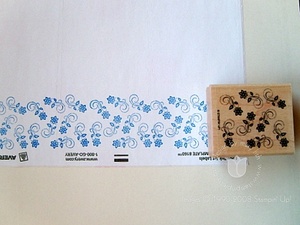 I stamped two patterns from the Boho Backgrounds set on the sheet of labels, using Brilliant Blue and Taken with Teal.

TIP:  The stamped, adhesive mailing label customizes the nugget easily.

  For a little nugget "personality," I used a Boho Blossom Punch to create the Yo Yo yellow flowers.  TIP: When you are using only part of a 3 part flower punch, grab your scraps so you don't waste as much.  Those long, skinny pieces sliced off from other projects, get new life.  I used the card stock shown, plus my Yo Yo scraps to create the 13 flowers needed.

TIP: I stamped the small "Enjoy Every Moment" flower on Brilliant Blue and Taken With Teal card stock.  Using a 1/2" Circle Punch, they were popped out for instant flower centers.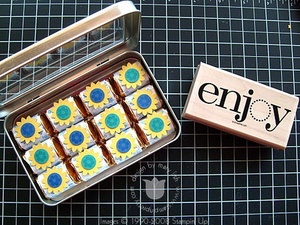 Nug-a-licious.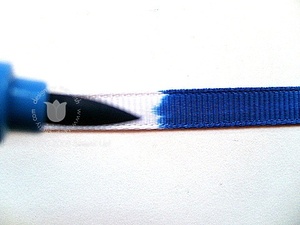 TIP:  Rub the large end of a Brilliant Blue Stampin' Up! Marker with some Whisper White 1/4" Grosgrain, and you have perfectly matched ribbon in a flash.  Mix white grosgrain and with any of Stampin' Up!'s markers and enjoy quick, coordinated ribbon.  It saturates beautifully.  When I flip the dyed ribbon over,  only minimal touch up is needed.  Be sure to let it dry.

The sentiment is one monster stamp of "enjoy" in Taken With Teal on Whisper White paper.  I embellished with a 1/4" circle ("heightened" on a Stampin' Dimensional) for the dot in "j," another yellow boho flower and one of the big beautiful brads from the new Hodgepodge Hardware collection in Styled Silver.  I matted the image on Yo Yo yellow card stock, which I cropped a bit with some decorative scissors.
The distance around the entire width of the tin is greater than the 11" Taken with Teal card stock I own . . . but no worries.  TIP:  I cut an 11" inch teal strip, wrapped it around (including my "Brilliant Blue" ribbon) and terminated it underneath the sentiment (great "coverup" for the short fall).  And, no seam on the bottom either.
So would you like some candy?  Please leave a comment with your favorite!
Hugs and Pretties . . . . Mary
COMING UP:  More "blog candy" (and other edible ideas to giveaway 🙂
Stamp Sets:  Boho Backgrounds, Enjoy Every Moment
Paper:  Avery 8160 Mailing Labels, Whisper White, Yo Yo Yellow, Brilliant Blue, Taken with Teal
Ink:  Brilliant Blue Ink Pad and Marker, Taken with Teal
Cool Tools:  Boho Blossom Punch, 1/4" and 1/2" Circle Punches, Provocraft Decorative Scissors
The Perfect Touch:  Whisper White 1/4" Grosgrain Ribbon, Hodgepodge Hardware Brad (Styled Silver, Occasions Mini), Stampin' Dimensional
Other:  Clear Top Tin (www.papertreyink.com)